Academic Career Track Area of Concentration (ACT ARCO)
Student Testimonial: Dr. Aaema Athar, Class of 2016
Aaema was one of the first graduates of the ACT ARCO  program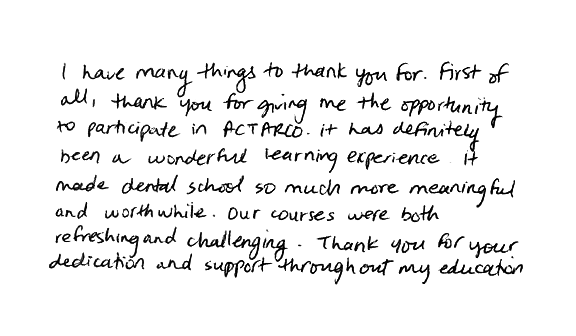 "Thank you for giving us the opportunity to partake in such a great program. It has been a rewarding experience and has made dental school a lot more enjoyable for me. I appreciate all of your and Dr. Wankiiri‐Hale's guidance. ACT ARCO certainly deserves the positive attention it is receiving!"
Student Testimonial: Dr. Mandana Shaya, Class of 2015
Mandana was one of the first graduates of the ACT ARCO  program
Clinical Teaching Practicum
Information About the Course
Dr. Zsuzsa Horvath, Course Director
Student Testimonial: Dr. Nicholas Riccio, Class of 2013
Nick helped with clinical teaching in Dr. Mandradjieff's course RESTD 5216 Endodontics 1 Lab  
Student Testimonial: Dr. Cassidy Budd, Class of 2013
Cassidy helped with clinical teaching in Dr. Matuszak's course RESTD 5147 Principles of Operative Dentistry 1 Lab
Current students may use their Pitt username and password to access the syllabi on Curriculum Management Tool. 
Other visitors to the site may e-mail Dr. Zsuzsa Horvath to request copies of the syllabi.
Please contact Dr. Zsuzsa Horvath or Dr. Christine Wankiiri-Hale if you are interested learning about the ACT ARCO program, individual courses, or the lunch hour discussion series.