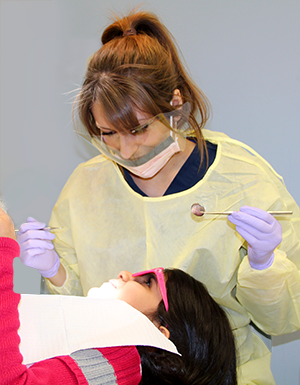 The School of Dental Medicine is the recipient of a $1.97 million Title VII grant from the Health Resources and Services Administration (HRSA) of the U.S. Department of Health and Human Services. Title VII funding provides support to pediatric dental programs, pledging $10 million in total for pediatric dental residencies for fiscal year 2016. The funding will support the expansion of the current, successful residency program in pediatric dentistry to include two new program tracks specializing in the care of patients in underserved rural settings and special needs populations. The aim of the program is to improve the quality and quantity of available dental health workforce in rural and underserved regions of Western Pennsylvania, specifically located in northern Appalachia. This disadvantaged region continually faces increasing shortages of oral health care professionals. The grant is the second HRSA grant received by the school; the first was used to develop the Advanced Education in General Dentistry residency program. Dr. Deborah Studen-Pavlovich and Dr. Robert Weyant are to be commended for their work to obtain the funds, which will support an interdisciplinary program of planned practical experience and team teaching groups comprising pediatric dentistry, public health and medicine.
"The Title VII funding gives the pediatric dental residency a wonderful opportunity for educating additional residents to be dually-trained and providing much needed dental services to the region's most vulnerable populations," said Deborah Studen-Pavlovich, DMD, Chair of Pediatric Dentistry and Program Director for the Pediatric Dentistry Residency Program
The residency program will expand the highly successful School of Dental Medicine Residency Program in Pediatric Dentistry. Two additional resident dentists will be accepted annually into the program, increasing total residents in the program to four. The program also includes an additional year of training. The curriculum will include completion of a Masters in Public Health (MPH) degree and participation in one of two specific program training tracks: special needs dental medicine or rural underserved patients and populations. Participants will receive advanced education and specialized training in delivering care to patients and populations including areas such as advanced clinical practice, cultural sensitivity and population-health issues, with the focus of improving the health of vulnerable populations. A formal "transition to practice" component of this program will assist residents, upon graduation, transition into meaningful professions that contribute to improving the quality and quantity of dental health providers who focus on reducing oral health disparity in these two underserved populations.
Robert Weyant, DMD, DrPH, associate dean for dental public health and community outreach, added, "This new program also will help our residents' transition into meaningful careers where their training can be brought to bear on reducing oral health disparities."
The program was developed to address extensive evidence of substantial inadequacies in dental providers trained to care for vulnerable populations regionally and nationally. Training will take place in several locations including the University of Pittsburgh School of Dental Medicine, School of Medicine and the Graduate School of Public Health. Additional training will occur in rural-based community health centers which have established long standing affiliations with the University. The Center for Patients with Special Needs will serve as the training site for most of the special needs track training. The principle training sites for rural training will be a network of clinics located in very rural areas of south western Pennsylvania, bordering the northern Appalachian regions of south east Ohio and West Virginia.
The grant will support two pediatric dental residents who express a desire to pursue advanced training in pediatric dentistry and dental public health with an emphasis for rural, disadvantaged, and special needs populations.