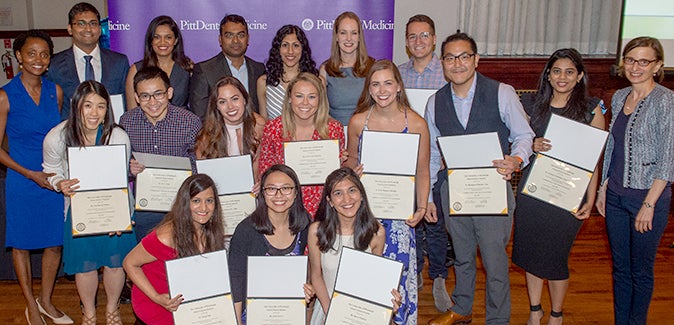 The Academic Career Track Area of Concentration (ACT ARCO) is a two-year program for students interested in pursuing a career in academic dentistry. The ACT ARCO program informs students about different career options and will also prepare them for a future role as a dental educator by providing hands-on training in the areas of teaching, scholarship, and leadership. The program also benefits future dentists, who will likely be involved in training more junior dentists and staff members in their practices as well as educating patients.

In the ACT ARCO courses, students will have the opportunity to develop leadership skills and gain a foundation in teaching and research. In addition, students will be able to review course material and skills taught in the first and second year curriculum and rethink them from an educational perspective both in didactic and pre-clinical/clinical settings. In the role of the teacher, students will learn to explain the materials or model clinical skills to more junior students, which requires a different level of understanding and well-developed communication skills. This experience not only promotes students' own lifelong learning, but also teaches students how to promote lifelong learning in others. 
ACT ARCO Curriculum
The ACT ARCO will require students to take a sequence of courses, totaling between 10 and 12 credits (listed below) during their third and fourth years. These courses have been specifically designed to accommodate the third and fourth year first professional students' schedule and clinical responsibilities. There is some flexibility in the sequencing of the courses depending on student's interest and prior experience; optional courses may be taken.
| Year | Term | COURSE NAME |
| --- | --- | --- |
| 3 | Fall | DENT 5981 Fundamentals of Teaching: Principles and Methods |
| 3 | Spring | Research elective course |
| 3 | Summer | DENT 5980 Introduction to Leadership and Career Development |
| 4 | Fall | DENT 5982 Teaching Practicum in Dental Education |
| 4 | Fall | DENT 5983 Academic Career Track Capstone Course 1 |
| 4 | Spring | DENT 5910 Clinical Teaching Practicum |
| 4 | Spring | DENT 5984 Academic Career Track Capstone Course 2 |
|   | optional | DENT 5912 Clinical Teaching Practicum 2 |
|   | optional | DENT 5914 Clinical Teaching Practicum 3 |
|   | optional | DENT 5913 Educational Administration |
|   | optional | DENT 5915 Introduction to Peer Tutoring in Dental Education |
|   | optional | DENT 5916 Peer Tutoring in Dental Education |
ACT ARCO Students and Graduates
Class of 2019
Hira Akbar
ByongSoo
Timothy Chae
Neelima Cherukumalli
Miranda Fabrega
Praveen Kumar
Gonuguntla Kamma
Lisa Huang
Minal Jain
Cara Kennedy
Erin Knepper
Aaron Maslia
Isaac No
Kathryn Polin
Sherry Sharma
Priya Sridhar
Aditya Wagh
Julie Hui Yu
Class of 2018
Madiha Bhatty
Karunesh V. Chakote
Surbhi Chandna
Amber M. Hallowell
Samiya R. Jabir
Saniya Kamran
Sidharth Kannan
Ashley T. Lazar
Giana M. Lupinetti
Katherine A. Ni
Sruthi Satishchandran
Class of 2017

Class of 2016