Developed by
Natalia Morone, MD, MS, Michael Schneider, DC, PhD,
Jordan Karp, MD, Debra Weiner, MD
Debra Weiner, MD: CoEPE Director
Heiko Spallek, DMD, PhD, MSBA(CIS): CoEPE Co-Director
Media production: Michael Dziabiak, MLIS
Overview
"The Institute of Medicine has highlighted the urgent need to close undergraduate and graduate educational gaps in treating pain. Chronic low back pain (CLBP) is one of the most common pain conditions, and older adults are particularly vulnerable to potential morbidities associated with misinformed treatment."
~ Dr. Debra K. Weiner et al., Journal of the American Geriatrics Society, 2014
This e-learning case-based interactive module was developed to teach students important principles for evaluating and managing CLBP in older adults. A team of six experts in education, information technology, pain management, and geriatrics developed the module. Teaching focuses on common errors, interactivity, and expert modeling and feedback.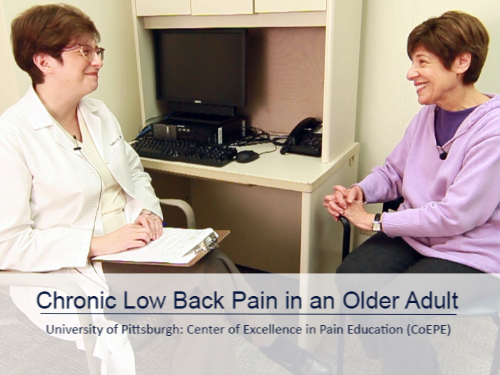 Please contact Dr. Zsuzsa Horváth (zshst2@pitt.edu) or Denise Deverts (dlj43@pitt.edu) if you would like to review the Chronic Low Back Pain in an Older Adult module and/or are planning on using any of the cases in your course. 
Additional Information
Read about the validation of this module in E-learning module on chronic low back pain in older adults: evidence of effect on medical student objective structured clinical examination performance by Weiner DK, Morone NE, Spallek H, Karp JF, Schneider M, Washburn C, Dziabiak MP, Hennon JG, Elnicki DM from J Am Geriatr Soc. 2014 Jun;62(6):1161-7. doi: 10.1111/jgs.12871