Students in the Dental Hygiene Program at the University of Pittsburgh School of Dental Medicine are preparing to take the clinical board exam to obtain a license to practice as dental hygienists.
In preparation for this exam, free oral screenings are being offered in an effort to recruit the patients for this exam.  Prospective exam patients will be screened for free and also will receive a free dental exam and treatment plan if they become a patient.
Individuals who meet the board examination criteria—a presence of moderate tartar build-up below the gums—and also can be present for the exam on May 8, 2020, will receive a free dental cleaning. 
The 30 minute screening process includes:
Free full mouth screening
Free oral health kit
Free initial exam and treatment plan if you return to the School of Dental Medicine for further care
Qualifying individuals will also receive
at the time of the exam:
Free x-rays, including duplication and distribution to your private dentist
Free dental cleaning
Our free dental services have an estimated value of up to $135.
Please schedule your screening appointment by visiting our online scheduling assistant.
Your appointment will take place in the School of Dental Medicine. 
If you are unavailable on the screening days listed in the scheduling assistant, please provide your contact information and you will be contacted as new screening days are coordinated.
This offer is for a limited time only. There are a limited number of screening days.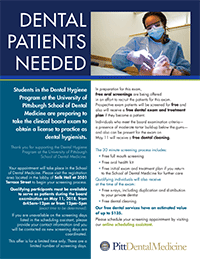 Download a detailed flyer.