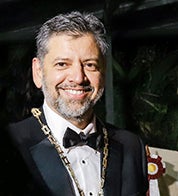 Alexandre Vieira, PhD, DDS, was recognized for his outstanding achievements in dental medicine by the Fédération Dentaire Internationale (National Academy of Dentistry of Brazil) during a ceremony in Rio de Janeiro on November 18, 2019. The Academy conferred upon him Ad immortalitem and Chair 87 during the event, where there also was a celebration of the 70th anniversary of the Academy. The role of the Academy is to promote the profession of dentistry and the impact its teaching and best practices have on society. Brazilians have a great deal of pride in their country's dental professionals. Dr. Viera is Professor of Oral Biology at the School of Dental Medicine, and has been at the University of Pittsburgh since 2005. 
Dr. Vieira completed his dental degree in 1992, as well as certificate programs in patients with special needs and pediatric dentistry.  He practiced as a pediatric dentist specializing in children with HIV prior to his interest in genetics.  Relocating to the University of Iowa, he completed a post-doctoral associate at the University of Iowa in 2005.  Dr. Vieira  is the director of the Dental Registry and DNA Repository (DRDR) and directs a number of research projects at the school involving caries in populations with special needs. He also is involved in work analyzing the genetics of facial clefting with populations around the world. 

A Moment of Reflection: Q&A with Dr. Alexandre R. Vieira
Why did you choose dentistry as a career?
"I believe it all started in Brazil when I was a child and needed orthodontic treatment. The only way my family could afford it was to become a patient for a dental residency training clinic. It was that environment that made me feel so special—with all of the residents attention—and made me choose dentistry. My mother wanted me to have a military career—a safe choice in a country with a military dictatorship. Dentistry was not an easy choice for someone from a poor family that had to struggle to afford this dream. Looking back, dentistry was the gateway to academics, the very same environment where I have stayed focused for decades."
What did you do after earning your DDS?
"After completing dental school, I never really stopped going to school. I completed a residency in dentistry for patients with special needs and immediately after did a residency in pediatric dentistry. If that wasn't enough, I also completed a master's degree."
How did you choose to research genetics?
"During my master's program, I had a class in genetics that included the human genome project that really piqued my interest. This led me to complete a PhD in genetics. My research project was to understand the etiology of cleft lip and palate. I worked with an established epidemiological study that served as one of the three birth defect study programs in the world. I learned how to coordinate sample collection among nearly 45 independent hospitals and worked with institutional review boards from eight different countries speaking two different languages. Years later I had the experience needed to create a registry of dental patients linked to biological samples—the DRDR—a project that has gained worldwide visibility and acclaim."
What are some of your proudest achievements?
"In 2015, my pioneering work in cariology field received the Distinguished Scientist award—the highest distinction from the International Association for Dental Research. Earlier this year I was recognized with the ADEA Gies Foundation 2019 Award for Vision—what many consider the "Oscar" of dental education—recognition for a lifetime of experiences. And recently I was recognized with a chair at the National Academy of Dentistry of Brazil, a body of distinguished dental professionals and scholars that exemplifies the teaching and practice of dentistry. Occupying chair # 87 is an honor that is hard to describe."
What do you see in your future?
"To continue to impact people's lives and help to shape the attitude of the next generation of dental scientists here, there, and everywhere."