October 7, 2017 -

8:00am

to

5:00pm
Event Description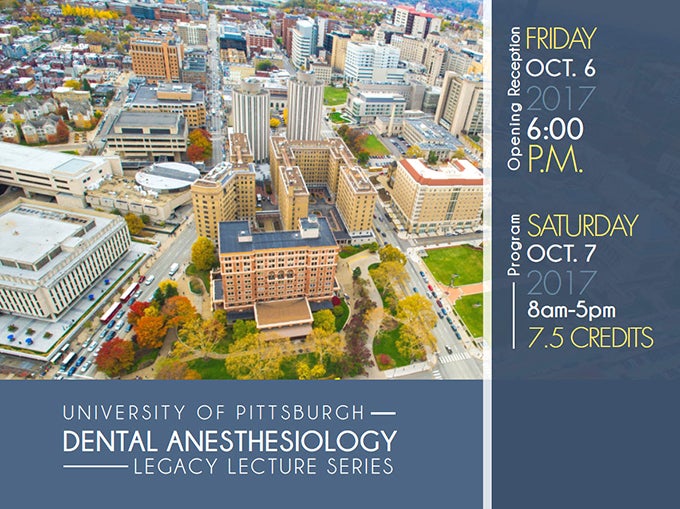 Speakers
Dr. Morton B. Rosenberg - "Dental Anesthesiology: Past, Present, and Visions of the Future"
Dr. Jennifer Wallen - "Updates in Pediatric Anesthesia"
Dr. Lenny Naftalin - "Postoperative Cognitive Dysfunction"
Dr. Jimmy Tom - "Beyond the Redhead: Genetics and Other Predispositions to the Anesthesia and Analgesic Treatment Plan"
Course Fee - $450
This series is conducted through the University of Pittsburgh. All questions about the series should be directed to Ms. Lisa Lehman.
Hotel Accommodations
Duquesne Club
Please call 412-391-1500 and ask for the Pitt Dental room block to make your reservation. 
Please call 412-230-4736 and ask for the Pitt Dental room block to make your reservation.
Location and Address
Duquesne Club
325 Sixth Avenue
Pittsburgh, PA 15222
Duquesne Club Dress Code Policy
Please no jeans, denim, tee shirts, sweatshirts, shorts, mini-skirts, athletic clothing and athletic shoes, leggings, spandex, informal leather attire, halter tops, casual hats, casual sandals, hiking boots, and recreational footwear. Acceptable attire for men: collared shirts, turtleneck sweaters, knit or golf type shirts with collars, tucked in to tailored trousers or khakis. Ladies may wear blouses or sweaters with tailored skirts or slacks. No one will be admitted to the Club in unacceptable attire.