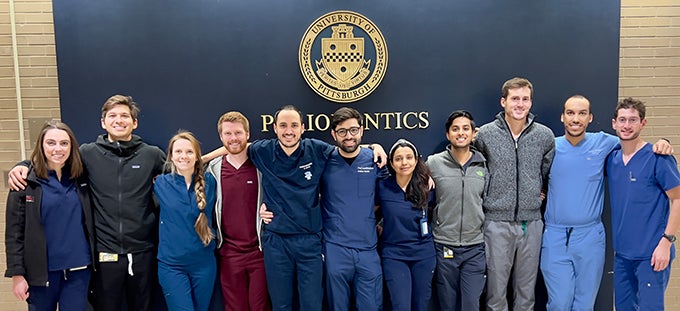 The Fellowship Programs in Periodontics and Implant Dentistry at the University of Pittsburgh School of Dental Medicine Department of Periodontics and Preventive Dentistry exposes participating fellows to both didactic and clinical portions of the Pitt Graduate Periodontics Program, including participating in hands-on demonstrations and assisting patients' treatments at the University dental clinics. During the course of the program, fellows will attend the same courses, seminars, case conferences and literature reviews offered in the Advanced Periodontics Residency Program. Fellows also will have the opportunity to actively participate in basic science and clinical research, as well as contribute to ongoing clinical trials developed in the department.
The program provides fellows with the opportunity to:
Expand the scope and depth of their knowledge in periodontics and implant dentistry;

Learn analytical skills necessary for evaluation of current literature to ensure the capacity for continued, self-directed growth to practice evidence-based dentistry;

Improve their abilities and confidence for successful public oral presentations in dental conferences, seminars and study clubs; and

Actively participate on basic science (bench top) or clinical research based on ongoing department projects.
Duration of the fellowship and application cycles
Candidates may opt for a 6- or a 12-month program. Transfers from the different programs are permitted, subject to the review of the program directors. Applicants are advised that both programs are a full-time commitment.
Positions are available for 3-5 fellows in each cycle of application, as follows:
Spring: April 1 (July 1 start date)

Summer: June 1 (September 1 start date)

Fall: October 1 (January 1 start date).
Clinical and Research Opportunities for Alumni
The Fellowship Program in Periodontics and Implant Dentistry is a non-degree program which offers opportunities for dentists from dental schools inside and outside of the United States and Canada to refine and enhance their education by expanding their knowledge in periodontics and implant dentistry.
After completion of the program, fellows are eligible to apply for either a degree-granting program or the American Dental Association (ADA) accredited advanced training program in periodontics (residency program).
Tuition and Student Support
If accepted into the program, the tuition for the six-month module is $13,000; and the tuition for the 12-month program is $25,000. A non-refundable deposit of $3,000 is required, payable within 20 days of acceptance into the program. The fellows are responsible for their own living, housing, health insurance and visa expenses related to the program. No funds, scholarships, loans or grants are available for the fellowship program. There is a one-time, non-refundable application fee of $250.
Prospective Students and Detailed Admissions Requirements
DDS/DMD, BDS, or equivalent degree is required of applicants desiring to explore the full scope of the periodontics specialty. International applicants must be eligible for an appropriate visa to enter the United States.
Applicants must provide the following information:
Completed application form (for best results, please select the download option after clicking this link and complete your form on your computer)

Curriculum vitae

Dental school transcripts of predoctoral education (with an English translation if not originally in English)

Minimum of two (2) letters of recommendation

Personal statement (fellow candidates are encouraged to mention on their personal statement which research area they have interest and why)

Photograph of themself (2" x 2")

TOEFL Score:

A TOEFL score of 550 or computer-based score of 213 or internet based score of 79-80 is required of students from non-English-speaking countries. A copy is acceptable. An interview in English will be required.
An onsite or video conference interview with the fellowship program director and co-director is required.
Dismissal Policy: As an approved advanced educational training program, standing policies and processes for postdoctoral student/resident appeals apply to the fellowship program.
Download an application form >

(for best results, please select the download option after clicking this link and complete your form on your computer)
Completed applications may be emailed, or may be printed and sent to:
The University of Pittsburgh School of Dental Medicine
Department Of Periodontics and Preventive Dentistry
Salk B100
3501 Terrace St, Pittsburgh, PA 15213
Email: mmc49@pitt.edu
Documented Employment Opportunities for Graduates of the Program
Upon completion of this program, fellows will receive a certificate which will help them achieve high reputation in areas of academics, research, and scholarship. Employment opportunities include an increased chance to be accepted in a Commission on Dental Accreditation (CODA) accredited graduate program or in the International Advanced Standing Program, which allows qualified, international dentists who graduated from programs not accredited by the CODA to earn a Doctor of Dental Medicine (DMD) degree and later practice in the United States.
Impact on Students Enrolled in Existing Programs 
All students enrolled in the Fellowship Programs in Periodontics and Implant Dentistry are not enrolled in other existing programs.
Impact on Other University Programs 
Other programs are not competitors for this program given the special emphasis on didactic and clinical portions specific to the periodontal field.
Impact on Staff and Faculty Personnel 
There is no additional impact on staff and faculty personnel to establish this program 
Cancellation Policy
Should the fellowship program be cancelled by the supporting division, enrollees are entitled to a full refund, except for application fees. Should the fellow leave the program at any given time prior completion, no refund is applicable.