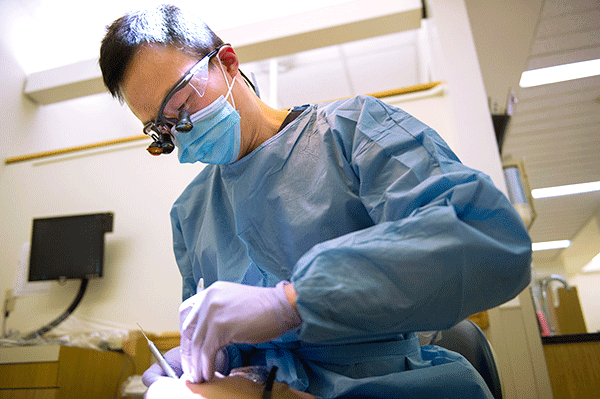 How to finance college is an important concern for most students. Fortunately, there are several options available to help finance higher education. Discovering the appropriate financial aid varies for each student, and is dependent upon each student's personal financial needs. The following information may be used as a guide for calculating the costs of attending the University of Pittsburgh Associate of Science Degree in Dental Hygiene Program.
All costs are subject to change without notice.

| Tuition | Per Trimester | Per Year | Per Credit |
| --- | --- | --- | --- |
| Pennsylvania Resident Tuition | $9,049.00 | $27,147.00 | $754.00 |
| Out-of-State Resident Tuition | $16,249.00 | $48,747.00 | $1,354.00 |
| Mandatory Fees | Per Term |
| --- | --- |
| Wellness Fee | $180.00 |
| Student Activity Fee | $100.00 |
| Security and Transportation Fee | $90.00 |
| Computer Network Service Fee | $175.00 |
| Program Expenses |   |
| --- | --- |
| Books | $1,000.00 per year |
| Uniforms | $200.00 |
| Supplemental Instrument Kit | $2,827.00 (Includes Instrument Mangement Fee- Fall Term Invoice) |
| Dental Hygiene Computerized National Board Examination | $440.00 |
| Northeast Regional Board Examination | $975.00 |
Dormatory rates may be referenced through the Panther Central webpage. Students may also contact a Pitt Housing Representative at 412-649-1100 for more information.

Resident Meal plans for the 2019-2020 school year may be referenced through the University of Pittsburgh Dining Services webpage. 
Types of Financial Aid
Students can investigate the following resources to help fund their education:
Grants
Student Loan Programs
Scholarships
The University of Pittsburgh School of Dental Medicine and the Dental Hygiene Program offer scholarships in recognition of academic excellence and demonstrated financial need. There are several academic and merit-based scholarships availabe to dental hygiene students that are not affiliated with the University of Pittsburgh. Scholarships available to dental hygiene students include, but are not limited to the following:
How to Apply for Financial Aid
To receive financial aid, interested students must complete the Free Application for Federal Student Aid (FAFSA) online. The school code for the University of Pittsburgh School of Dental Medcine, Dental Hygiene Program is 008815. You must file your FAFSA any time after October 1 of the year before you matriculate into the Program. Please remember that if you file a federal tax return, this information is needed in order to complete the form. One must complete the FAFSA form no later than May 1 to assure ample time to process this information and generate a Financial Aid Award Notification. The Award Notification will allow you to view the aid being offered for the upcoming school year.
Please visit the Tuition and Costs page of the University of Pittsburgh Office of Admissions and Financial aid website for more information.
International Applicants
We welcome international students to apply to the Program and strive to make the application process as smooth as possible.  It is to your advantage to plan ahead and submit your application and required materials as soon as possible, especially if you are pursuing a visa.
In addition to completing and submitting the application materials listed above, international applicants are required to submit an official credential evaluation of all international documents (e.g. transcripts, marksheets, certificates and examination results) from Educational Credential Evaluators, Inc. (ECE). Please reference the University of Pittsburgh Office of International Services website for international freshman requirements. You may also contact ECE at the address below. 
Educational Credential Evaluators, Inc.
P.O. Box 514070
Milwaukee, WI 53203-3470
www.ece.org
eval@ece.org
Phone: 414-289-3400
Fax: 414-289-3411
Citizens of countries where English is not the official language (including the Province of Quebec, Canada) are required to submit English language proficiency scores.  Applicants who have earned a bachelor's degree or higher from a regionally accredited institution in the United States are exempt.  Applicants must submit scores that are less than 2 years old from one of the following:
Test of English as a Foreign Language (TOEFL)
A TOEFL composite score of 100 or higher with subscores of 21 or higher is required for admission to the Dental Hygiene Program.  Learn more about TOEFL exemptions to this requirement. 
International English Language Testing System (IELTS) 
A IELTS score of 7.0 with subscores of 6.0 or higher is required for admission to the Dental Hygiene Program.
Financial Support
It is recommended strongly that international students review the Information Regarding Financial Support document prior to accepting a position in the Dental Hygiene Program.  It is important to understand all program costs associated with enrollment at the University of Pittsburgh since financial aid and scholarship options are not available to international students.