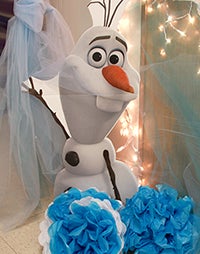 Give Kids a Smile Day is being celebrated this year on January 30 and February 20. This year's theme is "Frozen" from the Disney movie, and the department is awash in icy blue, silver and white. Cut out paper characters from the animated film are in attendance and a "make-your-own-snowman" craft area is well stocked, ready for patients and their families to be creative.   
Fifty-two patients were seen on the first day of the event by students in the DMD and Dental Hygiene Programs, the faculty and staff in the Department of Pediatric Dentistry and Dental Hygiene area, and residents from various departments. All contributed their expertise to the first day by donating their time by providing free preventive services to the children and adolescents, as well as materials donated by the School of Dental Medicine totaling approximately $6,400.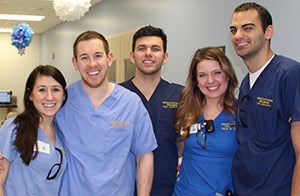 Students from the Student Chapter of the American Academy of Pediatric Dentistry began planning in November to make this year's event successful. We also thank Henry Schein and Colgate Palmolive Company for their support of the event.
The second day of the event, February 20, will consist of more extensive treatment, including but not limited to GA cases, restorations, extractions, and sealant applications.
Photos from the GKAS event are available on our Pitt Dental Medicine Flickr site.
The Tribune Review and Post Gazette newspapers both covered the event. Photos from the event are posted on their daily photo slide shows on the Trib Live page and The Post Gazette Photo of the Day page.