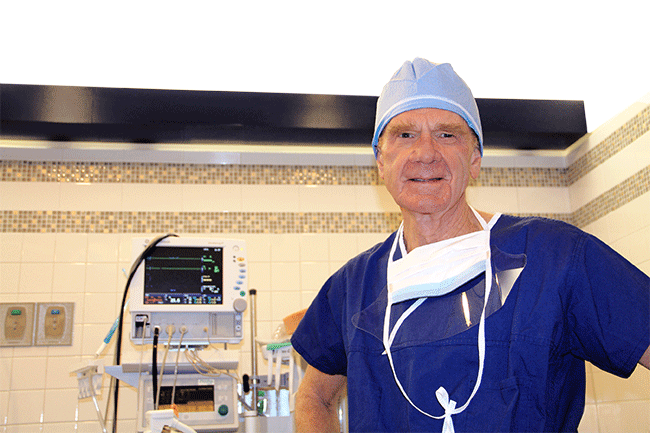 The School of Dental Medicine dean, Dr. Thomas W. Braun (DMD '73, PhD '77), has spent his entire education and career at the University of Pittsburgh. He has celebrated numerous milestones and notable achievements here. His affection for and dedication to the University and the School of Dental Medicine are not only evident in his years of service, but also palpable when he speaks. Many colleagues are quick to point out "his love and loyalty for Pitt." It is no surprise, then, that his decision to retire at this time involved selfless reasons for the betterment of the program.
"The school's going through a new building project, which is going to be multiple years in length," Dr. Braun recently said about his decision to step down effective January 31, 2018. Although he considered staying on until 2020, "I felt that it would be more advantageous that I move aside now and let someone come in who can see this through, rather than leaving the school in the middle of it."
As part of his transition, Dr. Braun recently stepped away from surgical cases to make room for new talent. "I stopped operating in January, just because it was time. My last case was a major reconstructive surgical case, which was great, and I feel that I was perfectly capable of operating several more years," he said. "But I just felt it was time to move aside and let younger and better people do that."
Dr. Braun's retirement will coincide with his 70th birthday. At the urging of his loved ones, he now will enjoy more quality time with family, including his wife, Liz; their three daughters; and their three grandsons. He also plans to spend much more time sailing on the Chesapeake Bay in Virginia, a longtime hobby.
Of particular concern to his wife (and even a few colleagues), Dr. Braun also has made a rather unique retirement promise: "Those days when I used to operate pretty much five days a week, I got out of the habit of eating lunch. So now I just don't," he laughed. "But that is one thing in retirement, I promised my wife I'm going to try to get back in the habit of eating lunch."
As Bernard J. Costello, DMD, MD, FACS, steps in as interim dean and a committee searches for a decanal successor, Dr. Braun's colleagues and friends are celebrating his impactful and principled career, sharing the lessons they learned from him, and recognizing the many remarkable ways he affected the education of Pitt students and care of patients.
"Tom Braun has distinguished himself in every facet of his professional and personal life. He is an inspiring role model for his students, faculty, and colleagues, and his contributions will have a long enduring impact on the entire University community as well as the field of oral and maxillofacial surgery."
Arthur S. Levine, MD
Senior Vice Chancellor for the Health Sciences
John and Gertrude Petersen Dean of Medicine
Professor of Medicine and Molecular Genetics
Dr. Braun as a Student
Looking back on his own career, Dr. Braun credits his successful career/path with a series of almost non-decisions, simply steps that followed his aptitudes and opportunities that presented themselves. In fact, when he was newly graduated from high school, he imagined himself joining the clergy. "But I did better in sciences than I did in philosophy, and so forth," he said. "So in college, I decided I'd like to go to dental school. I was pretty sure I wanted to be a general dentist, but in dental school, again, my aptitude seemed to be more with surgical sciences. And so I just entered the doors which opened, and they took me there."
His curriculum vitae paints a significantly more rigorous academic path. In 1969, Dr. Braun earned a bachelor of science degree in biology from the University of Pittsburgh, followed by not one but three impressive degrees in the decade that followed: In 1973, he graduated summa cum laude from the University of Pittsburgh School of Dental Medicine with a doctor of dental medicine (DMD). He was valedictorian and class president. The very same year, he received a master's degree in pharmacology from the University. Then, he immediately and successfully pursued a doctorate degree in anatomy—while completing his residency in oral and maxillofacial surgery at, then, Presbyterian University Hospital.
 "Dr. Braun never put his own personal agenda ahead of the school or University. His quiet leadership style allowed him to excel professionally, yet you would never know about it; he would never promote himself."
Dr. Christine Wankiiri-Hale, Associate Dean for Student Affairs
Successfully and simultaneously completing both extraordinarily rigorous programs of study cannot be overstated, according to longtime colleague Mark W. Ochs, DMD, MD. The two met when Dr. Ochs was a student. "He struck me as someone who was very curious about anatomy. Surgery itself is a very long track, but he was willing to go the extra distance to achieve that higher level of understanding," said Dr. Ochs, now Associate Dean of Hospital Affairs and Chair of the Department of Oral and Maxillofacial Surgery.
In his characteristically humble and low-key manner, Dr. Braun admits, "It was busy."
"Having it to do over, I'm not sure I would have simultaneously pursued the PhD while I was in residency. That was a bit more than I bargained for!" he laughed. "But they're interrelated, certainly. Anatomy provides direction for surgery. I was able to study various aspects of anatomy that had been experimental at the time. And the field of maxillofacial surgery was growing at the time. Pursuing both together gave me an opportunity to study, participate in, and contribute to that growth."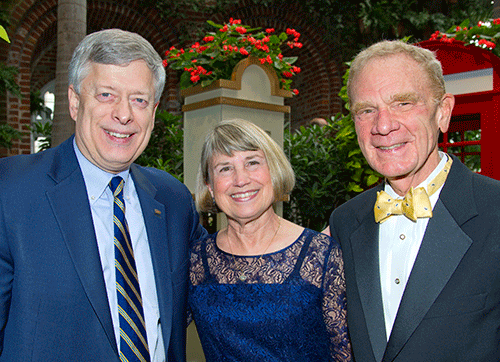 "Dr. Braun has an innate way of making you want to do well for him and the school. He has always impressed me with his calm, reassuring demeanor. He takes the time to know his staff and make them feel valued and appreciated. His contributions will have a long, enduring, positive impact on the entire University of Pittsburgh community."
Ms. Kristen M. Zeigler, Manager of IMS and Central Stores
Dr. Braun as Teacher, Surgeon, and Wizard of Oz
Dr. Braun joined the University of Pittsburgh's School of Dental Medicine faculty as a part-time anatomy instructor in 1977 and soon became an assistant professor. He later transitioned to teaching oral and maxillofacial surgery, rising through the ranks of assistant professor, associate professor, and professor with tenure. He looks back on that era of his career with clear joy and enthusiasm, describing teaching and performing surgery as rewarding and fun.
"That's the one thing that helped me keep my sanity," he joked. "In fact, that's when I find myself most relaxed, is in the operating room. I've been very fortunate. Through most of my professional career, I thoroughly enjoyed operating and teaching in the operating room, which is where I had continued teaching up until the time I stopped operating."
Even though he stepped away from his surgical role in January, the rewarding nature of that work endures. "30 years ago, I had a patient whose face had grown abnormaly, and I had a suspicion of what it was and diagnosed it on radiographs. We discovered that he had a brain tumor. He was able to get the appropriate surgery—brain surgery to remove the tumor—and then I was able do his reconstructive surgery. I ran into him a week ago at the museum, which was fascinating, and he remembered me," Dr. Braun said. "And just yesterday, I ran into another woman for whom I did facial reconstructive surgery—that was, again, 20-plus years ago—and she still remembers and is very grateful. It's very gratifying when you're able to do something positive for someone…It's hard not to feel proud of that."
"His patients love him so much and never have a bad thing to say about him," said Ms. Alice Gross, Receptionist and Patient Coordinator in the Department of Oral and Maxillofacial Surgery. "I remember a woman coming in crying. She was talking only out of the right side of her mouth because her left side was paralyzed. She could not wait to see Dr. Braun. I was not in the room to hear his magical words, but she came out with a full smile on her face. From then on, I called him The Wizard of Oz that is behind the curtain of our department. Many of his patients were like her, and not one of them left disappointed."

"Dr. Braun leads with integrity, fairness, and a clear commitment to the institution with the idea that the University has a tremendous amount to offer the public."
Dr. Bernard J. Costello, Interim Dean
Dr. Braun as Administrator
In 1990, Dr. Braun was named chair of oral and maxillofacial surgery and embarked on a starkly contrasting and challenging time in his career. "I was given this challenge. The program was a multitude of entities. There was a surgery program at Presbyterian Hospital and another one at Montefiore Hospital. And there was a loose affiliation with the school. So, when I came, Dr. Tom Detre, who was at the time the Senior Vice Chancellor at the medical center, essentially charged me with making those things come together," he said. "Of course, everyone had their own domain and no one wanted their domain to be taken. And yet, each one needed to yield if there was going to be a central organized structure. And so it required some hurt feelings, I think, and some difficult decisions."
The unification was necessary, according to Dr. Braun, because two competing programs on opposite sides of the street weakened both. It was essential to create a unified, strong, university-based, six-year MD/DMD program, with a strong emphasis on research and science and an excellent reputation.
"Making those come together really ruffled a lot of feathers, in a lot of areas. And at one point it ultimately became a major confrontation among a number of entities," Dr. Braun recalled. "But we were able to combine Presbyterian Hospital, Montefiore Hospital, and the Eye and Ear Hospital into a unified program that was based here. I was able to recruit some extraordinary people who have been excellent and dedicated to the program. Under their direction, they made what I believe has become, one of the finest programs in one of the finest dental schools in the country."
Indeed, the school is ranked in the top 10 dental schools for National Institute of Dental and Craniofacial Research (NIDCR) funding. Researchers at Pitt School of Dental Medicine work in conjunction with some of the most prestigious institutions in the nation, including the National Cancer Institute, the Department of Health and Human Services, and the National Science Foundation. Education website, StartClass, likewise ranks the school seventh.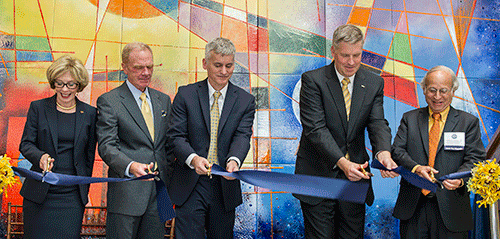 "Tom Braun is one of the kindest people I've ever met and clearly recognizes the value in focusing on the strengths, versus the weaknesses, of others. I think this skill enables him to be a master in identifying and grooming talent—a trait of a resourceful and transformative leader. He has taught me to expect that it's 'hard to do the right thing'—and that simple difficulty, and/or internal unrest, should not deter one from doing what is right."
Dr. Marnie Oakley, Associate Dean for Clinical Affairs
Dr. Braun as Dean
With the program united and growing stronger year after year, Dr. Braun assumed progressive decanal roles throughout the 1990s: associate dean for hospital affairs, senior associate dean, interim dean, and ultimately dean in 2000.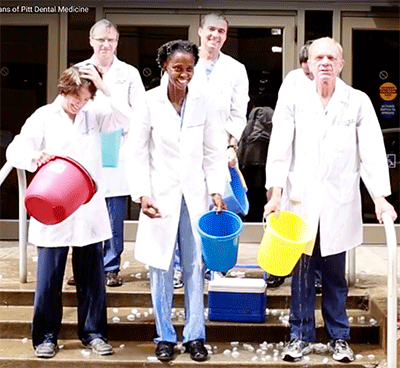 At the time of his appointment, Arthur S. Levine, MD, Senior Vice Chancellor for the Health Sciences, praised many of Dr. Braun's leadership qualities, particularly his proven ability to overcome obstacles and bring change: "He is known throughout the national dental community as a superb clinician, teacher, administrator, and an outstanding leader in advancing research and practice in dental medicine…He has demonstrated an exceptional commitment to necessary change, the ability to develop a consensus that would allow change to be undertaken effectively, and, most importantly, a true vision for the future of dental education, research and practice."
During his tenure as dean, that vision led to the 2008 opening of the Center for Patients with Special Needs (CPSN) which provides multidisciplinary care, including anesthesia when needed, for patients with physical, developmental, neurological, and behavioral disabilities.
Ms. Elaine Ellenberger, office administrator in the CPSN, highlighted the need for the Center and its uniqueness: "Dr. Braun is a compassionate, knowledgeable, quiet, and steady leader. He recognized that there are people in the community in need of specialized dental care and was instrumental in opening the Center for Patients with Special Needs to serve them. Under Dr. Bra
un's leadership, the School of Dental Medicine recognizes the need to have more trained providers in the community. The school is one of the few in the country that requires all third- and fourth-year students and all dental hygiene students to complete rotations in the center as a requirement of graduation."
"The purpose of the Center is not only taking care of people with disabilities, which is essential, but to train our students so that when they leave here, they're comfortable taking care of people with special needs—because not everyone needs to go to a major center like this. A lot of people can be cared for in a private office, but the dental practitioner needs to know that they can do it," Dr. Braun explained of the uncommon model.
The program was the first clinic of its kind nationally and has become a blueprint for others like it across the country. Dr. Braun not only came up with the idea for the Center but fought to make sure it offered the best possible care, which meant no secondhand equipment. Characteristically, Dr. Braun felt that people who have the least deserve the best, not our hand-me-downs. That belief charted the course for the Center.
Not only did the school make major clinical strides under Dr. Braun, but it also transformed its research program. Robert J. Weyant, DMD, DrPH, Professor and Chair of the Department of Dental Public Health, said, "One of his most important accomplishments has been his oversight of the process of the transition of the school from a relatively research-weak school to one of the most prominent research schools in the United States," he said. "He engenders trust and a sense that he will do what he says. His commitment to achieving excellence for the school is undeniable."
During his tenure, Dr. Braun was instrumental in the establishment the following centers that share a research focus critical to the school's success:
Center for Craniofacial and Dental Genetics, which uses statistical and molecular genetic methods to map and identify genes, develop phenotypes, and investigate behavioral and epidemiological factors that influence gene expression as it relates to craniofacial development.
Center for Craniofacial Regeneration, which uses ground-breaking tissue regeneration and biomaterial advances made at the University to develop treatments for wounds and defects of the face and skull that restore function and appearance
Center for Oral Health Research in Appalachia, which identifies factors that lead to oral health disparities in patients and families in Appalachia, a region with the largest burden of oral health problems per capita in the United States.
Dr. Costello also commended the dean's focus on research: "The School of Dental Medicine has risen from a dental school that was highly relevant to our regional community to an entity that is respected nationally and internationally because of the quality of its programs and the eminence of its research.  We have risen well into the top 10 NIDCR-funded institutions, and this is a direct result of Dr. Braun's leadership to recruit and cultivate this activity."
Marnie Oakley, DMD, Associate Dean for Clinical Affairs, agreed. "While a tremendously gifted and compassionate surgeon, Dr. Braun should be credited for leading our school to higher levels of national recognition in research, for fostering a predoctoral program that promotes clinical competency in a comprehensive care structure, and for making recruitment of top-tier faculty a chief priority."
In addition, Dr. Braun brought the school into the age of digital dentistry, bringing in software for virtual surgical planning, establishing a simulation clinic so dental students can perform mock surgery on mannequins and get feedback, and being an early adopter of cone beam technology, which allows 3D imaging and virtual planning.
"A few years ago, a colleague of mine brought some eggs in for me from the chickens at his home. He left them by my office door, but I had already left for the day. My office is near Dr. Braun's, and when Dr. Braun realized what had happened, he put the eggs in the refrigerator for me. He let me know by writing a limerick to that effect, and I don't know when I have laughed harder."
Dr. Jean O'Donnell, Associate Dean for Academic Affairs
Dr. Braun as a National Leader in the Field
In addition to his hospital- and University-level roles, Dr. Braun is an internationally recognized leader in his field. He has lectured and published widely, served as President of the American Board of Oral and Maxillofacial Surgery, was president of both the Pennsylvania Society of Oral and Maxillofacial Surgeons and the Great Lakes Society of Oral and Maxillofacial Surgeons, and served as Chair of the Oral and Maxillofacial Surgery Foundation. He was elected into the American College of Dentists and the International College of Dentists, among many other honors for his dedication to the University, the discipline, his patients, and those with special needs.
When asked how he juggled so many additional responsibilities, Dr. Braun said lightly, "I was told when I was a resident, 'If you want a job to be done well, give it to a busy person.' And that has worked for me. With any of the associations that I've been involved with, you think you're giving something, but you're actually getting much more in return. Being able to learn from your colleagues, your peers, your experiences, it's very enriching in so many ways."
"Dr. Braun taught me a lot about professionalism. You don't always have to agree, but you have to work together."
Dr. Mark W. Ochs, Associate Dean for Hospital Affairs
Dr. Braun Looks to the Future of the School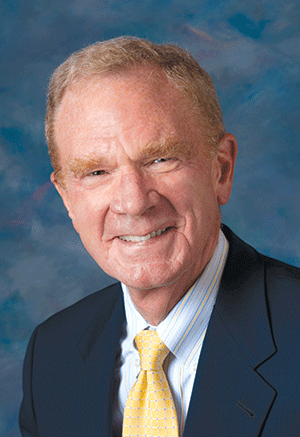 So that the school can continue to build on the progress made under his leadership, Dr. Braun believes it is time to not only refurbish the school's current home but also build a new clinical facility.
"Almost any of the notable schools that are our peers have new clinical facilities. We have been struggling just to keep ours in order. We really need to strongly reconsider an entire reorganization and new building. If this school is to remain as vibrant and as recognized as it is, I strongly believe that the new dean will need to be looking to creating an entirely new clinical facility."
And he knows that such a project would be in very capable hands. Of all the extraordinary accomplishments throughout his exemplary career, Dr. Braun believes that his masterpiece is the group he is leaving at the helm. Through the years, he has consistently sought people with integrity and the ability to say no. He wants those around him to know how to "do the right thing, at the right time, for the right reasons."
"The one thing I'm extremely proud of is creating the leadership team that's here. They are extraordinary. I could walk out of here and get hit by a bus today, and the school will be just as good—possibly better—because those individuals are in place. They are who make the school what it is."
His Enduring Concern for Students
During Dr. Braun's 19 year tenure as interim dean and dean, the School of Dental Medicine has been able to successfully mentor and educate generations of dental students and residents. The impact of his extraordinary leadership will be felt for many years to come, not only in the school and in the lives of our graduates, but in the field of dental medicine. 
In order to honor Dean Braun's tireless dedication to the school and the University, faculty, alumni and friends established the Dr. Thomas W. Braun Fund. The fund provides much needed educational support for students at the School of Dental Medicine. We hope you join us in honoring his legacy and assisting our students by making a gift to this important, life changing fund.