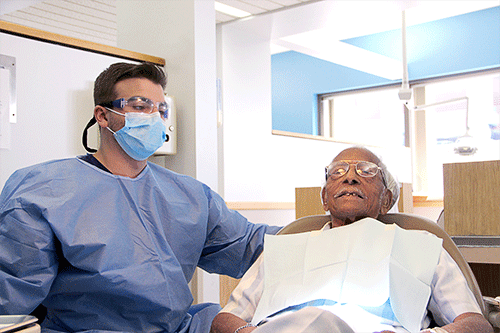 Mr. Charles Wiggins has been a patient of Pitt Dental Medicine for about eight months. In late August, he arrived for an appointment to have a few dental restorations performed by his student dentist, Mr. Peter Montini. Mr. Wiggins was excited to have a new smile for an upcoming party where he and his large family would be celebrating his 100th birthday.
Born September 8, 1917, in Alabama, Mr. Wiggins recalls that as a young child his father left the state to search for work. After nearly a year of searching, his father became employed by the Pittsburgh Public School System. Sadly, during this time, his wife—Mr. Wiggins' mother—passed away from the Spanish Flu, a pandemic that killed as many as 50 million people, worldwide.
After the end of World War I, Mr. Wiggins' father asked his family to travel from Alabama to set up a home in Pittsburgh. In the 1950s, Mr. Wiggins joined the United States Navy and considers himself fortunate to have had the opportunity to travel the world during his military experience.
Today, he boasts, "I have no regrets and am happy with my life." He enjoys the company of his family, and is grateful for the companionship of his girlfriend.  "I had to find someone my age to connect with," he says about her. It seems that living a long life is not unique to him, as several of his relatives are more than a century old. "I have been blessed," he adds. "My eight nieces look to me as a life example, and that helps to make me a good person."
When asked about his experiences at Pitt Dental Medicine, Mr. Wiggins was very complimentary. "I came here for one procedure, and had such a good experience, I kept coming back." He said, "The staff and students are excellent and treat me with respect."
His student dentist, Peter Montini, certainly likes Mr. Wiggins as a patient. While they talked during one of his appointment, Peter learned that they share the same September 8th birthdate.