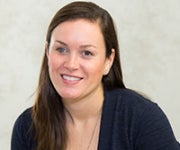 With great pleasure, we announce that Ms. Kelly Wagner has been appointed Interim Director of the Dental Hygiene Program at the University of Pittsburgh School of Dental Medicine.  Please welcome her to this new role as we look forward to an even greater integration of the dental hygiene team with our University.
Ms. Wagner graduated in 2007 from the University of Michigan with a bachelor of science degree in dental hygiene. In 2013, she earned a master of science in dental hygiene at the University of Maryland-Baltimore with a concentration in education. Ms. Wagner has more than ten years of experience in private practice, and served as an adjunct faculty member at Northern Virginia Community College Dental Hygiene Program from 2014-18. Ms. Wagner serves as an instructor in the Pitt Dental Medicine Dental Hygiene Program. She is the course director for Introduction to Public Health Dentistry, Local Anesthesia for Dental Hygiene and is the co-director of Dental Health Education and Senior Clinic Coordinator.
Her research interests include oral health literacy, patient outcomes in various delivery systems, and systemic diseases and oral inflammatory markers. Ms. Wagner also is a member of the American Dental Education Association (ADEA).