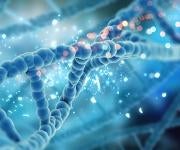 National DNA Day was Wednesday, April 25.
This exciting day commemorates the discovery of DNA's double helix in 1953, and marks the 15th anniversary of the successful completion of the Human Genome Project in 2003.
The 100,000th whole human genome sequenced at the Broad Institute will be completed Wednesday from a project focused on Asian and African patients affected with oral clefts and their parents, as part of the Gabriella Miller Kids First Pediatric Research Program (Kids First). School of Dental Medicine Center for Craniofacial and Dental Genetics (CCDG) is intimately involved with this exiting project, and is supplying the patient sample that represents the 100,000th genome sequencing.
Kids First is a federally-funded initiative supported by the NIH Common Fund and is focused on discovering genetic causes for childhood cancer and structural birth defects.  Structural malformations, such as oral clefts, require complex medical treatments and represent an emotional and financial burden for the child and the entire family, as well as the health care system. Another component of the program will create the Kids First Data Resource, including a rich database for clinical and genetic sequence data from thousands of patients (along with their parents) affected with these conditions from around the world.
Scientists across the country, like those here at Pitt's CCDG, use genome sequencing data—which is drawn from samples donated by patients and parents with their consent and stripped of identifying information—to identify the underlying causes of these devastating diseases, as well to identify pathways for potential treatments.