Developed by
Monica Malec, MD
Joseph Shega, MD
Julie Childers, MD
Debra Weiner, MD
Zsuzsa Horváth, PhD, CoEPE Director; Debra Weiner, MD, CoEPE Co-Director; Heiko Spallek, DMD, PhD, MSBA (CIS), CoEPE Co-Director
Media production: Michael Dziabiak, MLIS
Overview
This e-learning case-based interactive module was developed to teach students about how to approach the diagnosis and treatment of new pain in a patient with a history of metastatic cancer. Teaching points emphasize comprehensive pain assessment, treatment choices based on knowledge of pain pathways and analgesic mechanisms of action, and collaboration with an interdisciplinary team to optimize pain management in a cancer patient with progressive disease. Teaching also covers the need to consider non-cancer causes of pain in the patient with cancer.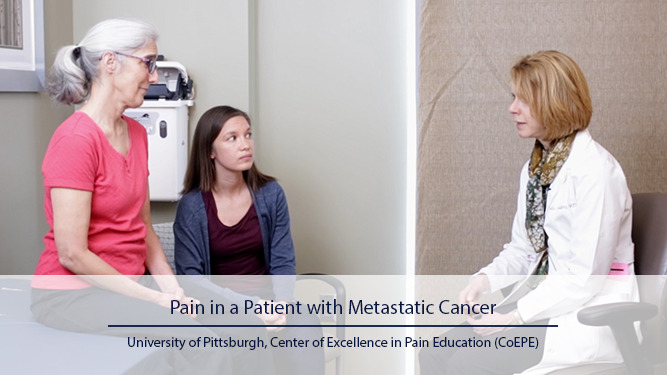 Please contact Dr. Zsuzsa Horváth (
zshst2@pitt.edu
) or Dr. Debra Weiner (
dweiner@pitt.edu
) if you would like to review the Pain in a Patient with Metastatic Cancer module and/or are planning on using any of the cases in your course.