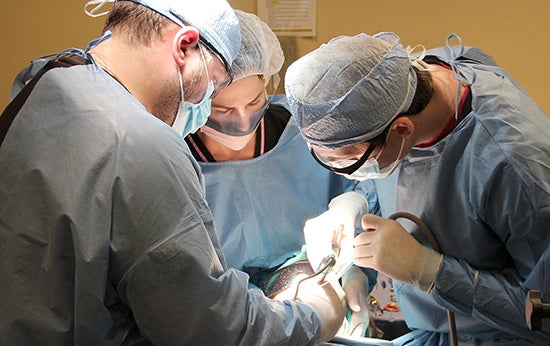 Pitt Dental Medicine Resident Specialty Services provides comprehensive specialty dental care through the specialty residency programs of the University of Pittsburgh School of Dental Medicine.  
Download
our informational brochure.
Treatment at Pitt Dental Medicine 
Our residents are licensed dentists pursuing advanced training in specialty areas of dental medicine, such as endodontics, periodontics and orthodontics.  Our residents provide high-quality, cost-effective care for patients while extending their training to include working as partners with general dentists and specialists throughout the community.
Participating Clinical Services
Endodontics (Root Canal Therapy)
The Endodontic Residency Program offers all aspects of comprehensive microscopic non-surgical and surgical endodontic therapy. The ability to treat patients with intravenous and general sedation permits the apprehensive and medically challenged patient to be treated in a safe and comfortable manner. Cone Beam Computed Tomography (CBCT) is available for challenging diagnostic and treatment decisions. Pediatric endodontic therapy that includes various vital pulp procedures to permit continued root development, as well as regenerative endodontics of the immature permanent tooth, are performed and refined in the Program. 
The Endodontic Residency Program utilizes the newest technologies and is at the forefront of translational procedures from clinical research to clinical practice. Our residents will provide your patients with state of the art treatment.
 
Procedures
Offered:
Microscopic non-surgical endodontic treatment
or retreatment
Microscopic endodontic surgery
Treatment of odontogenic traumatic injuries
Pediatric endodontic treatment, including vital pulp
therapy and regenerative endodontics
Local, intravenous and general anesthesia
Cone Beam Computed Tomography (CBCT)
Orthodontics and Dentofacial Orthopedics (Braces)
The Orthodontic Residency Program offers a multitude of orthodontic services, ranging from Phase I early orthodontic treatment to comprehensive treatment for adolescents and adults. In addition, we offer treatment alternatives for patients concerned about the appearance of orthodontic treatment, including clear ceramic braces and Invisalign® clear aligner therapy. As part of our Dentofacial Program, we are able to provide state-of-the-art treatment for orthodontic/surgical cases and dentofacial deformities in our unique interdisciplinary clinical setting. 
When you refer your patients to the Orthodontic Residency Program, they will receive individualized treatment by one of our dedicated residents under the direct supervision of our experienced faculty members.
 
Procedures
Offered:
Comprehensive orthodontic treatment
for adolescents & adults
Phase I early orthodontic treatment
Space maintenance 
Functional appliance treatment (growth modification)
Surgical orthodontics
Invisalign®
Damon® self-ligating braces
ClarityTM ADVANCED Ceramic Braces
Temporary anchorage devices (TADs)
Periodontics (Treatment of Gum Disease)
The Periodontics Residency Program offers cutting edge treatment of periodontal disease, placement of dental implants, and prescription periodontal procedures supervised and taught by board-certified periodontists. 
The Periodontics Residency Program centers on a multi-disciplinary approach to treatment planning and patient care emphasizing collaboration with other treatment centers. Our goal is to provide an optimal outcome for patients by initiating appropriate and conservative treatment strategies. We use the full spectrum of currently available biological materials for regeneration of bone and soft tissue around teeth, and in site development for implant placement. Additionally, we are always working on new therapies to improve patient outcomes, bringing clinical research into clinical practice and applying cutting edge treatment modalities. We utilize CBCT technology to provide optimal diagnostics for complicated cases as well as sedation services for medically compromised or anxious patients. 
Procedures
Offered:
Periodontal Services: 
Scaling and root planing
Extractions
Host modulation therapy and chemotherapeutics
Gingival flap and debridement
Osseous surgery and regeneration of bony defects
 Free-gingival graft
Connective tissue graft for root coverage
Treatment of peri-implantitis

Pre-prosthetic and Implant Services: 
Crown elongation (functional and aesthetic)
Guided bone regeneration 
Ridge augmentation
Sinus elevation
Implant placement

Orthodontic Services: 
Impacted tooth exposure
Gingivectomy
• Frenectomy
Supracrestal fiberotomy
Insurance
With few exceptions, all patient insurance plans 
are accepted.  For information about specific plan acceptance, please visit our dental insurance information pages, or call 412-648-2110.