Marking a significant transition filled with emotion and tradition, the University of Pittsburgh School of Dental Medicine welcomes the Class of 2022 this month at the annual White Coat Ceremony. This is an exciting part of the general assembly held to begin each academic year when incoming students are welcomed into the Pitt Dental Medicine family and receive their first white coats, signifying the beginning of their careers in dental medicine and dental hygiene. Family members, friends, faculty and alumni are invited to attend this profound ceremony.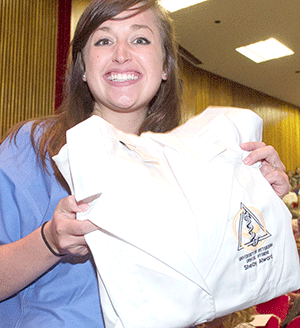 If you were to look back to when you began your own education and career, what suggestions or life lessons would you tell yourself? We ask our alumni, parents and friends to share the benefit of their experience with our new students. When you make a gift, you can send a message for an incoming student that we will put into the pocket of their new white coat. If you prefer to remain anonymous, we will tell the student that their coat is presented by a member of the Pitt Dental Medicine community who has made a generous donation in their honor.
We hope that you will consider sharing your heartfelt and inspiring story with one of our new students.
Your donation of $50 supports the School of Dental Medicine White Coat Ceremony and gives a warm welcome to the newest members of our family. To support our students through the White Coat Ceremony, please contact Nancy Poe by email or at 412-648-8910.