Developed by
Cheryl Bernstein, MD
Michael Schneider, DC, PhD 
Jordan F. Karp, MD
Debra Weiner, MD
Zsuzsa Horváth, PhD: CoEPE Director
Debra Weiner, MD: CoEPE Director
Heiko Spallek, DMD, PhD, MSBA(CIS): CoEPE Co-Director
Media production: Michael Dziabiak, MLIS
Overview
This e-learning case-based interactive module was developed to teach students important principles for evaluating and managing widespread pain and fibromyalgia. A team of seven experts in education, information technology, pain management, psychiatry, and physical therapy developed the module. Teaching focuses on common errors, interactivity, and expert modeling and feedback.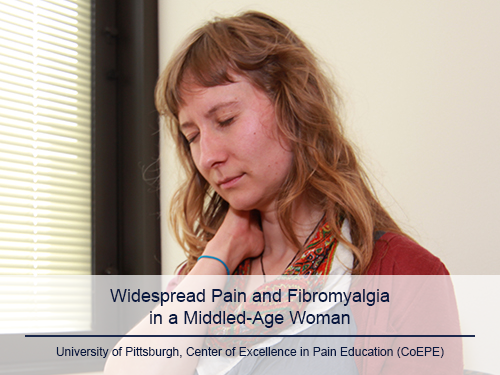 Please contact Dr. Zsuzsa Horváth (
zshst2@pitt.edu
) or Denise Deverts (
dlj43@pitt.edu
) if you would like to review the Widespread Pain and Fibromyalgia in a Middled-Age Woman module and/or are planning on using any of the cases in your course.