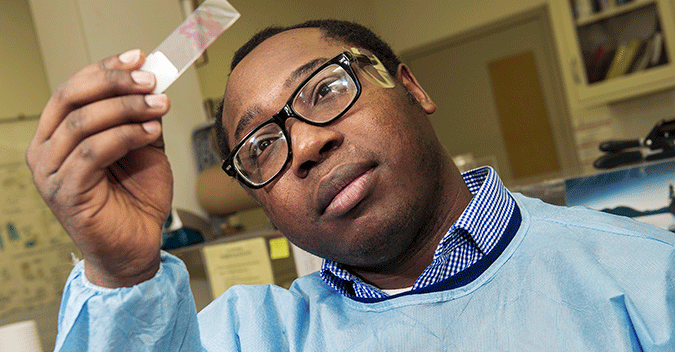 The University of Pittsburgh Oral and Maxillofacial Pathology Biopsy Service is the only pathology group in Western Pennsylvania specializing exclusively in Oral and Maxillofacial Pathology.
For more than 40 years, we have offered a consultation and tissue diagnostic services to medical and dental communities. The service currently serves nearly 160 regional practitioners and the surrounding institutions.
Our affiliation with one of the top dental schools and pathology departments in the nation allows us to provide state-of-the-art services, including standard tissue processing, staining, molecular diagnostics, immunofluorescence and immunohistochemistry.
The Oral and Maxillofacial Pathology Biopsy service averages 2,200 new cases each year. Reports on the majority of these cases are issued within 24-hours following the receipt of the specimen.
Medical and dental professionals can have confidence in the accuracy and promptness of the consultative and diagnostic services provided by the Oral and Maxillofacial Pathology Biopsy Service at the University of Pittsburgh School of Dental Medicine.
Request Biopsy Kits
For your convenience, we offer free biopsy submission kits. The kits contain zipper bags, formalin bottles, patient information sheets, and self-addressed pre-paid mailing envelopes so you can send us your cases free of charge. Immunofluorescent studies for certain immune-mediated conditions (e.g., benign mucous membrane pemphigoid, pemphigus) require the special use of Michel's solution. When you require Immunofluorescent studies, please contact us to receive free-of-charge Michel's solution bottles.
For free biopsy kits, please contact our lab manager by phone at 412-648-8629, or e-mail to receive them as soon as possible. Please allow a few days for mail delivery.
Send a Biopsy
You may download, complete and return our biopsy submission form to our mailing address. Please package biopsies in sealed 10% formalin containers and include your patient's billing and insurance information so that your request may be properly billed.
We accept many commercial insurance programs, including Highmark BlueCross/BlueShield, UPMC and Medicare. Medicare patients must complete and return the Advance Beneficiary Notice of Noncoverage form.
Radiographs and/or clinical images often are useful or necessary in rendering a diagnosis (as is the case with many fibro-osseous lesions).  Duplicate or original radiographic images of diagnostic quality may be sent with biopsies.
Request a Microscopic Consultation (Second Opinion)
We are happy to review any problematic histopathology slides. We understand that interpretation of oral biopsy samples by general pathologists may be challenging and require interpretation of clinical information that is specific to the oral cavity. If your clinical impression is inconsistent with a histopathologic diagnosis rendered at a local hospital, or you require assistance in the evaluation of your specimen, it would be appropriate to request our review of the slides. You may request that diagnostic material (glass slides and/or tissue block) be sent to our pathology laboratory.
To request a consultation, please download, complete and return our consultation form to our mailing address. Please include any necessary glass slides and/or tissue blocks, radiographic images, clinical images, and outside pathology reports.