Pitt Dental Medicine DMD Class of 2026 and DH Class of 2024 White Coat Ceremony took place on Friday, August 26, 2022 at 2pm in Alumni Hall 7th Floor Auditorium.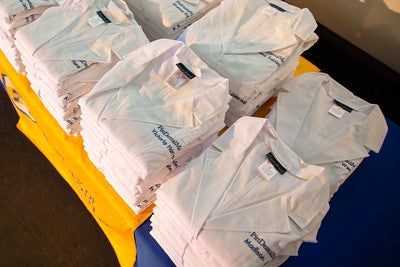 Event seating is limited, but students will be invited to bring up to 6 guests. Doors will open 45 minutes before the ceremony begins.
Please refer to www.coronavirus.pitt.edu for updates on Community Levels and mask guidance. The university's face covering rules will, at a minimum, be consistent with CDC guidance, which relies on community COVID-19 levels to determine when indoor masking is required.  The university requires face coverings indoors when COVID-19 community levels are "high".  Face coverings are optional indoors when community levels are "medium" or "low".  
Parking is available on campus in Soldiers and Sailors Garage. 
See Pitt's Visitor Parking Map for parking options on campus.
If you require a physical or dietary accommodation to participate in this event, please contact Ms. Alycia Maltony in the Office of Student Affairs by August 1, 2022.
The White Coat Ceremony is an important rite of passage as our students begin a new chapter of their lives.
Download the program for this White Coat Ceremony  >
To welcome our new students, each is presented with a personalized white coat to wear throughout dental school.
The White Coat Ceremony receives support in part from the Harry K. Zohn (DMD '84) and Cecile A. Feldman, DMD White Coat Endowment Fund as well as contributions from our alumni and friends.
If you wish to send an incoming student some words of encouragement as they embark on a time of intense study and personal growth, please consider making a $75 donation to support the White Coat Ceremony and welcome our incoming students.
Donate and write your note now >> 


Thank you for supporting this Pitt Dental Medicine tradition!   
---
The livestream video of the DMD Class of 2026 and DH Class of 2024 White Coat Ceremony will begin at 2pm on August 26.
---
Watch the livestream video of the Class of 2024 White Coat Ceremony below.
Download the program for this event >
---
View photos from past White Coat Ceremonies at our Flickr site >>
Watch videos from previous White Coat Ceremonies
2021 White Coat Ceremony   Download the 2021 Event Program >