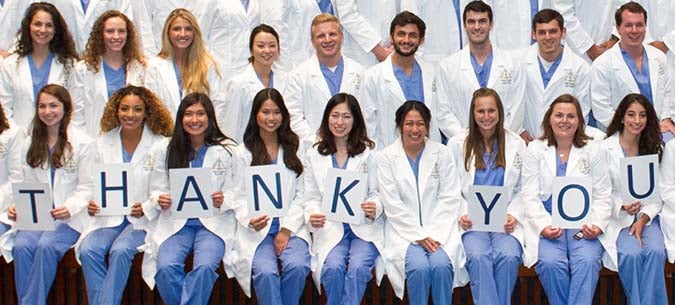 Why Should You Support Pitt Dental Medicine?
Since its founding in 1896, the University of Pittsburgh School of Dental Medicine has become an international premier dental educational and clinical facility. The School continues in its mission of bringing superior dental education and training, high-quality clinical services, and cutting-edge research into our community and positively influencing the world.
Your gift will allow our programs, faculty and students to continue to lead the way through innovative curriculum, research and clinical practice.
Learn about the ways you can support
Where Do Your Dollars Go?
Contributions from alumni and friends have been generous and have become vital to address many needs, such as improvements in our clinical facilities, classrooms, public areas, and students' lives. The cost of a dental education is staggering and can be a limiting factor for many who want to enter the profession. Debts in excess of $250,000 upon graduation are common. Scholarships and awards are essential to our students, the School, and our region.
Your support to the School of Dental Medicine has made many accomplishments possible, such as:
Providing student support with need- and merit-based financial assistance;
Administering continuing education programs for dental professionals;
Attracting and retaining the finest faculty and researchers; and
Providing quality and affordable oral health care for the community.
To accomplish these goals, your support is crucial. By directing your gift to an area or department that is most meaningful to you, you contribute to the advancement of our work and enable the School to attract the best and brightest students and keep our mission of caring and compassion in our community alive. 
For more information about supporting the School of Dental Medicine please make your gift online.
For more information, please contact Cynthia Caldwell, Assistant Vice Chancellor, Development and Planned Giving, by email.