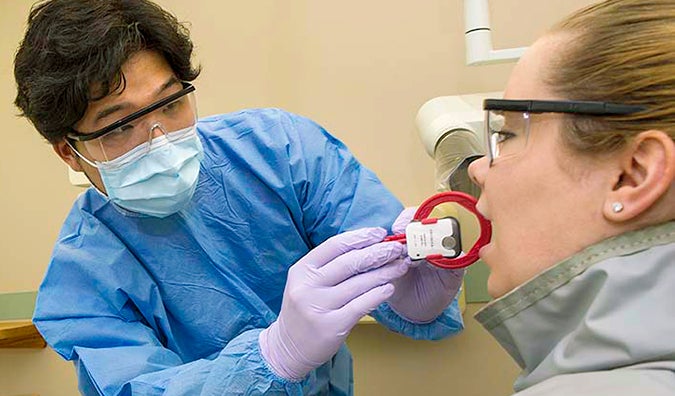 Revolutionize your practice with digital 2-D imaging and 3-D Cone Beam Computed Tomography (CBCT) imaging.
Our Radiology Service offers a variety of radiographic and consultative services by a board-certified Oral and Maxillofacial Radiologist.
Services available include
3D imaging
Medical Radiology tech captures all cross-sectional imaging.
CBCT is a valuable diagnostic tool in treatment planning for Implants, Maxillofacial trauma, Orthodontic and Orthognathic procedure planning, TMJ analysis and Sinus pathology.
We provide CBCT imaging and interpretation for 4 volume sizes: single site, single or double jaw, and full volume.
2D imaging
Certified and experienced dental assistants capture all 2D digital imaging.
Periapicals, Bitewings, Occlusal, Panoramic, Cephalometric and Extraoral bitewings for special circumstances
Formal interpretation reports
Formal interpretation reports for all types of imaging studies of the oral and maxillofacial region including cone beam CTs, and conventional planar images
Consultation on all types of studies available
Consultation on digital radiographic equipment purchase, Radiation hygiene, QA programs.
Continuing education
Continuing education courses on various topics related to Radiology
Digital Radiology
Pathology on Radiographs: review and interesting cases
Advanced imaging: latest and place in dentistry
CBCT imaging: Implementation to Interpretation
CBCT Interpretation "Boohs"
Panoramic interpretation: every dentist's friend.
Imaging service
Please complete Patient Referral form and CBCT Consult form and mail to
3501 Terrace St
G119 Salk Hall
Pittsburgh, PA 15261
Send a valid prescription with relevant clinical diagnosis, diagnostic code and any pertinent clinical information or specific instructions for the tech. Imaging can be mailed back to you on a CD or a USB memory stick with in 24 hrs. You can fax the prescription to us or send it along with the patient.
For CBCT imaging, please provide specific instructions if you just need a viewer or you need DICOM images on a separate CD. Specific scan protocols. Image patient with a template or template separately. Please send your instructions and we will image them accordingly.
Quick turn around time on imaging and reporting
Our prices are very reasonable and competitive
More Information
Faculty
Anitha Potluri BDS DMD MDSC
Chair, Department of Diagnostic sciences
Director, Oral and Maxillofacial Radiology, Diplomate ABOMR
Suvendra Vijayan BDS MPH MS
Assistant Professor, Oral and Maxillofacial Radiology
Suzann McGeary DMD 
Clinical instructor
Ed Barron DMD
Clinical instructor
Staff
Sheila Schrembeck
Medical Radiology Tech Supervisor
Karly Gibbons
Certified Radiology Dental Assistant
Samantha Dryburgh
Certified Radiology Dental Assistant