Help Students Like Patrick Donnelly
"The first dentist I ever shadowed graduated from the University of Pittsburgh School of Dental Medicine, as did my general dentist back home. So, I always felt like I had a bit of a connection to Pitt Dental Med. I was lucky enough to receive a fantastic scholarship, which freed me from financial burdens and allowed me to choose the school that was best for me, where I am able to follow in the footsteps of some of my earliest mentors. I'm humbled to be benefitting from the generosity of those who came before me, and I look forward to helping students who come after me. I hope I can help make it easy for them to choose to come to Pitt, just as my scholarship did for me."
Patrick Donnelly, Dental Class of 2021
Help Students Like Jaysen Williams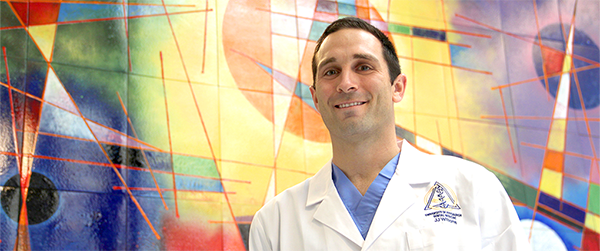 "My grandfather was a dentist and a huge role model in my life. After careful consideration, I felt that dentistry could offer me the perfect combination of health care and entrepreneurship—having received a bachelor's degree in economics. I chose to attend the University of Pittsburgh because the School of Dental Medicine had a strong sense of teamwork in all that they do. Scholarships are emblematic of that teamwork—as if I have a support system working with me to reach my goal of owning a business that also allows me to help people in my community. Attending dental school while raising a family has been extremely difficult both personally and financially, and receiving a scholarship has helped to ease a heavy burden. No matter how big or how small, every gift is needed and very much appreciated."
Jaysen Williams, Dental Class of 2020
Why You Should Support Scholarships
At the University of Pittsburgh School of Dental Medicine, one of the three pillars of our mission is teaching a new generation of clinicians to deliver oral health care with skill and compassion – a goal that can be greatly achieved through the help of alumni and friends like you.
I'm writing in hopes that you will consider making a gift to support scholarships at the School of Dental Medicine today.
Your generosity will benefit students like Patrick Donnelly, who is a Dean's Scholarship recipient. Patrick has a bachelor's degree, master's degree, and doctorate in chemistry, and he came to the School of Dental Medicine after completing a postdoctoral fellowship at the Hospital for Special Surgery in New York and serving as an assistant instructor at the City College of New York
Patrick truly embodies our belief in the value of a strong scientific foundation and life-long learning. I'm delighted we were able to offer him the financial support he needed and thrilled to have such a talented scholar studying at our school. Contributions from friends like you can help to increase the number of scholarships available, ensuring that every student like Patrick has the assistance they need to pursue a career in dental medicine.
With the staggering cost of dental education, it's important, now more than ever, to ensure the next generation of dental professionals are able to continue and complete their studies. By recognizing the importance of giving back, you acknowledge the potential of these deserving students who will one day be the leaders in our field.
I hope we can count on you to support scholarships today, ultimately making a difference in the future of dental medicine. On behalf of our faculty, staff, and – most importantly – our students, thank you for your consideration.