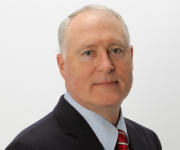 Paul J. Schwartz, DMD, Assistant Professor in Oral and Maxillofacial Surgery and Dental Anesthesiology at the University of Pittsburgh School of Dental Medicine, was elected Vice President of the American Association of Oral and Maxillofacial Surgeons (AAOMS) for 2020-21 during the organization's virtual House of Delegates sessions in September.
Dr. Schwartz previously was District II Trustee, serving the Middle Atlantic States and the United States Military, for the past four years for AAOMS–the professional organization representing more than 9,000 oral and maxillofacial surgeons.
He also has served as President of the Maryland Society of Oral and Maxillofacial Surgeons and examiner and Co-chair of Medicine and Anesthesia for the American Board of Oral and Maxillofacial Surgery (ABOMS). Before joining Pitt Dental Medicine, he practiced full-scope oral and maxillofacial surgery in the Washington, D.C., metro area for more than 30 years.
"I am looking forward to my year as Vice President of AAOMS," Dr. Schwartz said. "As a Trustee, I learned a great deal about AAOMS and meeting the needs of our members. I plan to use that knowledge to support and serve the Association's remarkable and talented surgeons."