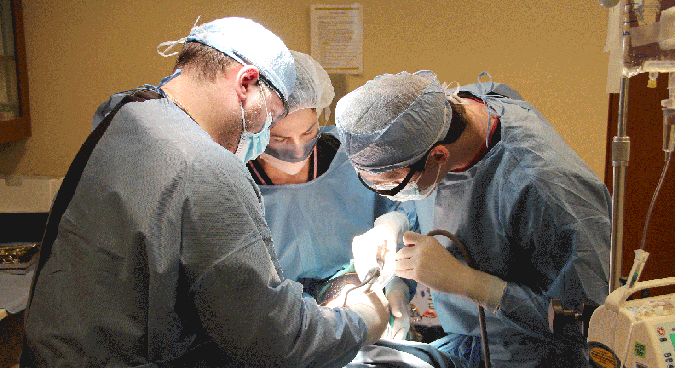 Specialty clinicians in the Department of Oral and Maxillofacial Surgery specialize at the highest level of expertise in the full scope of surgical care of the craniofacial and maxillofacial region. Some of our specialists' areas of interest include:
Orthognathic "jaw" surgery,  
Cleft repair and reconstruction,
Craniofacial reconstruction,
Treatment of obstructive sleep apnea,
Temporomandibular joint repair and reconstruction,
Facial cosmetic surgery,
Tumor removal,
Facial trauma reconstruction for adults,
Facial trauma reconstruction for children,
Craniofacial implants,
Dental implants,
Dental and oral surgery.
To make a consultation appointment, please contact one of the surgeons listed in the OMS faculty directory, or contact our patient care coordinators at 412-648-8616, or visit the Patient Care section of our website for additional information.
Office Locations
University of Pittsburgh
School of Dental Medicine
Department of Oral and Maxillofacial Surgery
3501 Terrace Street, G-32 Salk Hall
Pittsburgh, Pennsylvania 15261
412-648-8604
Fax: 412-648-3600
UPMC Montefiore Dental and Surgical Clinic
Department of Dental Medicine
Suite 202 South
3459 Fifth Avenue
Pittsburgh, Pennsylvania 15213
412-648-6730
Maxillofacial Prosthodontics for Patients
Maxillofacial Prosthodontic Center at UPMC employs a multidisciplinary approach to complex facial problems that involve several specialties. The Center interacts with many health care providers to assure unsurpassed care for patients with acquired or congenital craniofacial disfigurement. Our specialists in maxillofacial prosthodontics undergo additional training in the fabrication of specialized facial prostheses to correct or mask deformities.
The Center also employs highly trained and experienced laboratory technicians who are skilled at creating artificial facial structures such as noses, ears, and eyes, in conjunction with the treating doctors.
Full dental services are available at the Center, including rehabilitation with dental implants.
For information please contact
UPMC Montefiore Hospital
Maxillofacial Prosthodontic Center
3459 Fifth Avenue, 2nd Floor
Pittsburgh, Pennsylvania 15261
412-648-6080
Fax: 412-648-6505
smithct@upmc.edu