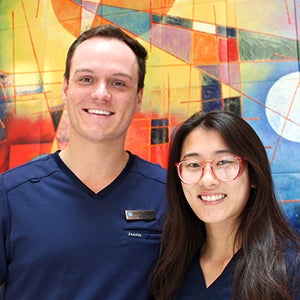 The University of Pittsburgh School of Dental Medicine Langkamp Allison Award recognizes a third-year dental student interested in pursuing a career in dental education. 
 
This year, we have two award recipients who have shown their passion and commitment to teaching, and their desire to pursue an academic career and contribute to the greater community.  
Please join us in congratulating the recipients of the 2023 Langkamp Allison Award, Class of 2025 students Tiana Soldacki-Han and Reid Frye. 
Tiana Soldacki-Han was nominated by faculty acknowledging her profound dedication to the education and awareness of pediatric oral health. Currently, she serves as the co-president for the Pitt Pediatric Dentistry Club. Tiana also has been active in many other dental initiatives—both at Pitt Dental Medicine and in the community—demonstrating her leadership abilities. 
Reid Frye has been recognized for his passion and unwavering dedication to the field of academic and contemporary dentistry. Reid's efforts have been appreciated through his role in enhancing hands-on learning though the use of digital dentistry. 
We look forward to seeing Tiana and Reid as successful dental educators in the future.