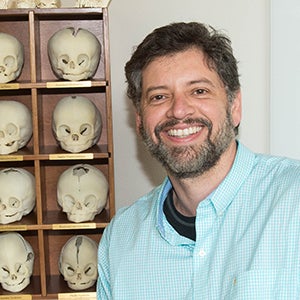 Alexandre R. Vieira, DDS, PhD, is the 2021 recipient of the prestigious European Organisation for Caries Research (ORCA) Prize.
"Being the 2021 recipient of the ORCA Prize recognizes me for almost two decades of work in dental caries. It highlights my research focus on the person who is affected by dental caries and their biology, instead of the traditional focus on the bacteria, fluorides and other oral hygiene strategies, sugary diets, and restorative materials. I started by focusing on poorly-explained dental caries incidence in certain individuals and transformed into the concept of a multifactorial disease that indeed requires a susceptible host.

I hope the award calls attention to a disease that is highly prevalent in Pittsburgh. We, at Pitt Dental Medicine, have an opportunity to call for a model of taxation of sugars similar to what was imposed on cigarettes, which will further help control the disease in the most vulnerable segments of the population."
The prestigious ORCA prize has been given in recognition of outstanding contributions to the field of dental caries research since 1964. Since that time, only three Americans have received this award. This year's virtual award ceremony will take place on Thursday, July 8, 2021.
Dr. Viera is Professor of Oral and Craniofacial Sciences at the School of Dental Medicine, and has been at the University of Pittsburgh since 2005.  He completed his dental degree in 1992, as well as certificate programs in patients with special needs and pediatric dentistry.  He practiced as a pediatric dentist specializing in children with HIV prior to his interest in genetics.  Relocating to the University of Iowa, he completed a post-doctoral associate at the University of Iowa in 2005.  Dr. Vieira is the creator of the Dental Registry and DNA Repository (DRDR) and directs a number of research projects at the school involving caries in populations with special needs. He also is involved in work analyzing the genetics of facial clefting with populations around the world. In 2019, Dr. Vieira was recognized for his outstanding achievements in dental medicine by the Fédération Dentaire Internationale (National Academy of Dentistry of Brazil). The Academy conferred upon him Ad immortalitem and Chair 87. Dr. Vieira also is was recognized in 2018 with the Gies Award for Vision, recognizing his forward thought in creating the Dental Registry and DNA Repository (DRDR) program in 2005 at the Pitt School of Dental Medicine.
About ORCA
The European Organisation for Caries Research (ORCA) is a scientific organization promoting oral health through research in the field of cariology. ORCA was founded in 1953 in Europe and since then has been expanded to dental professionals worldwide.