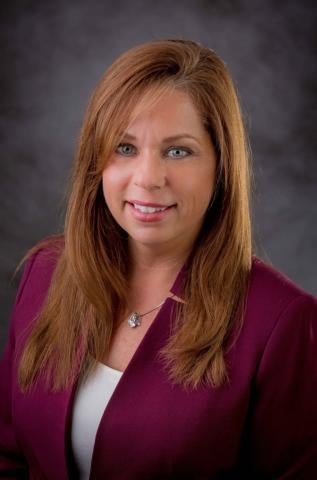 Since Linda Straub-Bruce graduated from Pitt's dental hygienist program, she has never stopped learning—and her passion for personal and professional growth has led her to leadership roles, higher education, advocacy and more.
Originally from Erie, Linda first came to Pitt as an "excited 17-year-old," graduating from the dental hygienist program in 1989. From there, she went straight to Edinboro University of Pennsylvania, where she received a bachelor's degree in education. Although she has worked in the field of dentistry for more than 30 years, she could not resist continuing to further her education—she received a master's degree in health services administration from Lake Erie College of Osteopathic Medicine (LECOM) in 2022, and she is now a doctoral candidate in their healthcare administration program. When the Covid-19 pandemic hit, she saw the perfect opportunity to further explore the intersection of health care and business. Currently, she's getting ready to start her dissertation on the topic of interprofessional dentistry and barriers to integrating patient-centered care. "There's not a lot of data out there or research on it," says Linda. "It's something I'm very passionate about."
Her path to leadership and business administration began during her very first role as a clinical dental hygienist. From starting as the practice's first and only hygienist, her desire to grow and learn put her on a path to the position she now holds as the practice's operations and finance manager. Though she loves seeing patients in the clinic, she states that she would "rather be green and growing than ripe and rotten." Her involvement in local professional organizations eventually grew into her role as the president of the Pennsylvania Dental Hygienists Association from 2019 to 2021, where she first dipped her toes into advocacy and government relations.
Linda is passionate about overcoming and eliminating barriers to dental health care, especially for children and in rural areas in Pennsylvania. This passion led her to learn more about insurance, business management and more. In her current role, she's helping to expand access to care for the most vulnerable at her practice. "We're all part of our community," she says, "and we all have a community responsibility."
While she may no longer practice as a dental hygienist, Linda still enjoys getting into the clinical setting as a clinical preceptor for LECOM School of Dental Medicine in Erie, guiding fourth-year students as they enter the clinic and prepare for the board exam. She also stays connected with former Pitt classmates and professors, as well as frequently attending alumni events and giving back to the University, while her leadership positions in professional organizations allow her to touch base with current Pitt Dental students. Linda admires the way the program has continued to grow more diverse and inclusive as the school rises to meet new challenges and explores cutting-edge technology. She adds, "Pitt is reflected in all of us, and supporting the University's mission is a great way to pay it forward for the next generations."
For current students and recent graduates of the School of Dental Medicine, Linda has a few words of advice: "You are always in one of two states—you are either growing, or you are stagnating. Always choose to grow. Stay connected with each other. And never stop learning."