The Pitt Dental Medicine Student Chapter of the American Academy of Pediatric Dentistry (AAPD) and the Department of Pediatric Dentistry are hosting a Christmas toy, book, and clothing drive to support the Alliance for Infants and Toddlers. The Alliance for Infants and Toddlers is an organization which offers support and early intervention services for families in Allegheny County with children ages birth to three years who have developmental disabilities.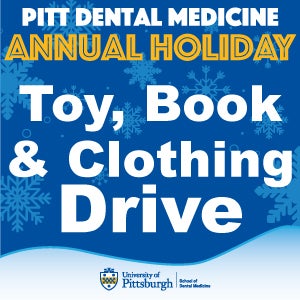 We have committed to donating 100 gifts to support the Alliance in helping the families they assist during the Christmas season. Please consider joining us to reach this goal.
We will be collecting gifts for children ages birth to three years from Monday, November 14 through Wednesday, December 7, 2022.
If you are interested and able to participate, please purchase a present that costs between $10 and $15 and bring it unwrapped to the Pitt Dental Medicine Department of Pediatric Dentistry.  Please see Dr. Deb or a member of the Pediatric Dentistry staff to turn in your purchased gift!
Thank you for joining us in this cause!  We are excited to be able to help this organization through your generosity. 
Sincerely,                                  
Tiana Han and Vivian Zhou
Co-Presidents, Student Chapter, AAPD
Dr. Deborah Studen-Pavlovich
Professor and Faculty Advisor