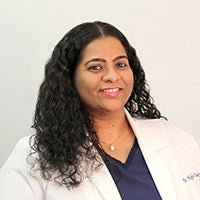 Assistant Professor, Dr. Nyla Balakrishnan, is the new director of Pitt Dental Medicine's clinical community outreach program SCOPE (Student Community Outreach Program and Education). The program aims to create a learning environment where students are able to expand their personal and professional insights; develop cultural competencies; gain experience by working in a variety of cultural, community, and office settings; and ultimately—during their fourth year—provide dental care to those who cannot afford or access care.
In a new effort to increase options for students and to improve access to care for patients in underserved areas, Dr. Balakrishnan has spearheaded new, important efforts that increase SCOPE's outreach.
Over the past year alone, seven new, approved clinics have been added across Pennsylvania. This means that more patients will be treated in clinics where Pitt Dental Medicine students practice under faculty supervision. There also are sites in Ohio and Maryland. Underserved areas throughout the region include both urban and rural areas—provider shortages can be in regions with both large and small populations. More than half of the SCOPE clinics are Federally Qualified Health Centers (FQHC) that are designated to address dental health professional shortages. Other clinics include not-for-profit organizations and community health centers.
See maps of the sites where Pitt Dental Medicine SCOPE provides care 
All of the more than 80 students in each class are required to practice at the SCOPE-approved clinics, making it possible to provide care to more than 2,500 underserved patients each year. Ensuring that those in need can get the care needed, more sites are continuously added. Furthermore, as students experience caring for patients in underserved areas, they may be more likely to practice in such areas after graduation. This potential helps to mitigate the shortage of dental care providers throughout the region not only though direct patient access, but through the improved potential for long-term care providers settling and practicing in those regions.
"Pennsylvania has identified more than 150 designated dental health professional shortage areas which translates to close to two million individuals who do not have access to oral healthcare. Through SCOPE, we aim to address some of these unmet needs, reduce disparities and close some of the gaps in access to care. Much of the success of this program relies in the participation of the external clinics and preceptors for whom we are thankful. Our students gain real-world experiences with patients while broadening their clinical experience and nurturing their community responsibility. We are constantly working toward expanding the program to serve more individuals while being able to provide our students a diverse clinical experience." Nyla Balakrishnan, BDS, MPH
Other efforts to further improve both patient education and improved access to care are underway through SCOPE and at Pitt Dental Medicine.
Quotes From Student Journals
"Perhaps most importantly, in my time serving the underserved through the SCOPE outreach program, I observed that these patients that we as dental students had the privilege of treating were all incredibly appreciative and exceedingly grateful for the efforts put forth by the entire dental team. It has truly been a uniquely rewarding and remarkably gratifying journey to work at both of these amazing dental clinics with these absolutely remarkable and deeply compassionate dental professionals. It has without a doubt opened my eyes to the once remote possibility of working with the underserved—as this patient population offers its health care providers the opportunity for something distinctly fulfilling."
"My two weeks with SCOPE program were invaluable experiences, in which I learned not only about dentistry, but also about the disparities in oral health, and overlying challenges rooted in our society that directly or indirectly lead to such disparities. As a result, I hope to be able to treat the underserved in my future, whether that means volunteering at a federally qualified health clinic or even single-day events such as Mission of Mercy. These experiences have given me a new perspective firsthand of the challenges that many patients face and allowed me to better understand their hardships. I hope to give back in my future, whenever I can, and be a part of the solution in fighting oral health disparities."
"SCOPE rotations were initially a very scary thing to me. After completing my rotations, I wish I had more weeks to be with the patients ...."