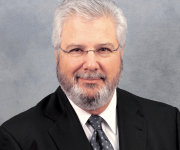 Dr. Joseph Giovannitti, Jr.
, professor and chair of the Department of Dental Anesthesiology, has been appointed a member of the Commission on Dental Accreditation (CODA) Review Committee on Advanced Dental Education in General Dentistry, General Practice Residency, Dental Anesthesiology, Oral Medicine and Orofacial Pain Education. His term begins in November 2018 and will last four years (until November 2022.) After attending an orientation and training meeting in December, Dr. Giovannitti will join the Committee to meet twice each year to review issues and proposed standard changes for these disciplines.
Additionally, he has been appointed as a CODA Consultant and Site Visitor for Advanced Education Programs in Dental Anesthesiology for 2018-2019, as well as a Consultant to the American Dental Association (ADA) Council on Scientific Affairs for October 2018 to September 2019.