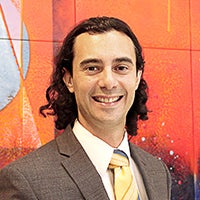 Pitt Dental Medicine Associate Professor, Alejandro Almarza, PhD, was awarded a $5.9M Restoring Joint Health and Function to Reduce Pain (RE-JOIN) Consortium Project (1UC2AR082196-01) from the National Institutes of Health (NIH), and is part of the Helping to End Addiction Long-term (HEAL) Initiative. This multi-principal investigator award with Dr. Almarza at Pitt and Dr. Kyle Allen at the University of Florida, is accepted for three years, with potential additional funding for two more years. 
" … my research in pain has grown so much. It started with an R21 for $225,000, and in one step to this multimillion dollar award. We are one of only five teams selected for this REJOIN consortium, which puts Pitt Dental Medicine in very good and elite company." — Dr. Alejandro Almarza
 
The consortium project comprises 5 national teams bringing synergistic expertise about the types and distribution of neurons in joint tissues to identify key receptors and mediators that induce pain by activating specific sensory neurons. The Pitt team—under the direction of Dr. Almarza—will focus on the temporomandibular joint, and Dr. Allen will lead the work on the knee. 
"It has been wonderful to see Alejandro's pain program grow—he is putting the pain area for Pitt Dental Medicine on the map." — Dr. Charles Sfeir, Associate Dean for Research

 


 
Specific Clinical Research
Teams at Pitt and University of Florida will work to identify cell bodies in the dorsal root ganglia and trigeminal ganglia that project to the muscle, bone, or intra-articular joint tissues. These neurons will then be evaluated for their function using electrophysiologic tests and their transcriptome using single cell RNA-sequencing. By overlapping neural function with gene expression, they will identify promoter targets and design adeno-associated virus (AAV) vectors to produce fluorescent labels alongside the expression of these targets. Importantly, this approach will allow them to develop AAV-based tracers for specific functional neural subtypes, as well as combine traditional markers of functional subtypes with any newly identified markers that describe how the neuron changes with age, sex, and osteoarthritis (OA) severity. Moreover, these tracers will be used to evaluate how joint innervation adapts following the application of two neural ablation techniques for pain relief in the knee and TMJ. To evaluate the clinical significance of these preclinical studies, innervation changes will be assessed in tissues collected from patients undergoing total joint replacement of the knee or TMJ. In all of these studies, joint innervation will be paired with detailed analyses of joint pain and disability. These analyses will include detailed behavioral characterizations; in patients, these analyses will include quantitative sensory tests and other assessments of joint function. Combined, this approach will allow them to evaluate pathology-pain relationships related to joint innervation from the preclinical model to the clinic.
Why is this research important for patients?
Joint pain can be difficult to manage. Learning more and having a better understanding of how pain works will improve how clinicians can help manage and reduce joint pain.
Nerve innervation to a join is a complex network of different neural subtypes that vary between each different anatomical site, such as the knee or the temporomandibular joint (TMJ), and also take into account different biological factors (i.e., age, sex, disease) that the patient has. Moreover, to have clinical relevance, a shift in innervation must relate to a shift in symptoms. Our research proposal looks at joint pain from this perspective, generating pathology-pain relationships that are important to clinicians working with patients facing TMJ and knee osteoarthritis (OA) pain.