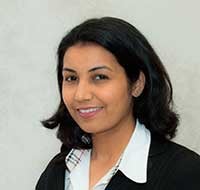 Anchal Malik, BDS, MHA, an assistant professor in the Department of Dental Public Health, School of Dental Medicine, has received a $10,000 grant from the Office of the Provost to develop an open online short course on the Coursera platform.
The award, for the period from May 1 through Dec. 30, 2023, includes support from Pitt Online Services for instructional design, course development, project management and media production. It can be used to support faculty, staff or students who work on the course.
Dr. Malik, the director of didactic and preclinical laboratory courses in dental anatomy and morphology, and the codirector of cariology and caries management courses, proposed the new course as an introduction to dental terminology. It is a self-paced course meant to be completed in four to eight weeks.
Dr. Malik developed her course proposal after she reviewed the extensive offerings already available on Coursera and spotted this gap.
"This is for anybody who wants to explore dentistry," she said. "It could be for work, or for education. It could be for collaboration with oral health providers or for administrators."
Dr. Malik, who serves on the board of directors for the American Academy of Cariology and is also involved with the American Dental Education Association (ADEA), believes in expanding access to dental education.
She noted that the course content could support the University of Pittsburgh's dental pipeline recruitment efforts for prospective students or professionals for different dental and allied dental health programs.
It could also be useful for patients who need the information to advocate for themselves with their oral health providers or insurance companies.
"Depending on what treatment you're receiving, say if you're getting orthodontic treatment, then you can review the module that has commonly used orthodontic terms to familiarize yourself with the specialty specific terminology. Or if you are getting an implant, you can access that course free of charge, and learn more about the treatment so that you can 'talk the talk,'" she said.
"I held a focus group before I sent out the proposal with a dental student, dental staff, and some high school students," including her daughter, now a rising junior. "Literally everybody gave positive feedback and supported it and said, 'This course would be a helpful learning opportunity,'" she said.