By Keightley Amen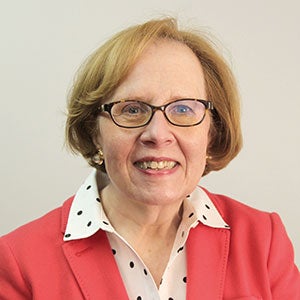 Dr. Deborah Studen-Pavlovich's esteemed career in dentistry started out as something she describes as a lark. 

Originally an undergraduate pharmacy major who switched to chemistry, she made an impromptu decision to take the dental admissions test. And the rest, as they say, is history. Dr. Studen-Pavlovich, professor, interim chair, and residency program director in the Department of Pediatric Dentistry at the University of Pittsburgh School of Dental Medicine, will retire this year on September 30. 

"Pharmacy just wasn't a good fit for me. At that time, there weren't large pharmacies like CVS and Rite Aid, and I just couldn't see myself owning and managing a small pharmacy, having a fountain with sodas and ice cream and all that stuff. I always liked healthcare, and I wanted to help people directly, so I switched to chemistry in the hopes that I would find my niche," she says. 

After she received her bachelor's degree in chemistry from Butler University in Indianapolis, Ind., and started thinking about what was next, a friend suggested that she consider dentistry. "I was a walk-in for the dental admissions test—they wouldn't even do that now! I had to bring my headshot, my driver's license, and my Butler University ID. And that's how I ended up in dentistry. I have been very fortunate that the career was well suited to me and that it has brought me a lot of personal satisfaction and reward." 

The field of dentistry is also fortunate that Dr. Studen-Pavlovich and her friend had that fateful conversation that day. Her career has made an extensive impact on the field of pediatric dentistry, the careers of many dentists, and the smiles of countless kids. 
Why Pitt?
Dr. Studen-Pavlovich was born and raised in Midland, Beaver County, went away to college for four years, and returned to Pittsburgh for dental school. She made that decision because Pitt was highly ranked, even then, and it was "a real bargain." 
"In this day and age, you could not say this, but I graduated from all of my schooling with no debt. I had a generous scholarship to Butler University. And when I started dental school, it was $1,500 a year in the fall of 1976. If you put that into today's dollars, that's about $7,931. Now, annual tuition is close to $60,000," she says. 
Her early experiences in dental medicine were shaped largely by mentor Dennis Ranalli, DDS, MDS, a longtime professor, chair, and graduate program director of Pitt Dental Medicine's Department of Pediatric Dentistry. 
"He made us feel welcome at the school, but he also worked us hard, and I'll always appreciate that. I owe him a lot for being a good mentor," she said. "There are a lot of specialties in dental school which I had no propensity for. But I always liked children— they were spontaneous, they made me laugh, and there's probably a part of me that's always a child anyway. So I gravitated toward pediatric dentistry and worked hard in that specialty. I learned that when you discover that you have passion for something, you really have to go after that." 

Early on, she joined the Pitt student chapter of the American Society of Dentistry for Children. The club organized trips to local schools, where the students gave presentations about the importance of dental health. The club brought in speakers to talk about different aspects of pediatric dentistry. Members also did community outreach at health fairs and other community events, passing out toothbrushes, performing dental health screenings under the supervision of a faculty member, and encouraging members of the community to take care of their teeth and gums. 

After graduating from the University of Pittsburgh School of Dental Medicine in 1980 and obtaining certification in pediatric dentistry in 1983, Dr. Studen-Pavlovich moved to Michigan, where she practiced and served as an assistant professor at the University of Detroit Mercy. 

She returned to Pitt in 1988 as a faculty member where she has been the advisor for the same club she was part of as a student—now a local chapter of the American Academy of Pediatric Dentistry (AAPD). She is proud of the fact that she has been at Pitt for many years, contributing to and building upon its mission. "I've been in the department for 35 years. It has a really strong, community-based mission, and it really attempts to try to correct some of the disparities that children may have in getting dental care. One of the many good things about our school is that it's a safety net for underserved and vulnerable populations." 
Give Kids a Smile Days
A shining example of her commitment to pediatric dentistry and Pitt's community-based mission is the Give Kids a Smile Days program, which offers free dental care to uninsured children at the Salk Hall pediatric dentistry clinic. 

"The Give Kids a Smile Days program is in its 21st year. When the program started, we would have one day in February (Children's Dental Health Month) when we'd bring in 50 to 60 children who were uninsured and provide them with an exam, cleaning, fluoride, X-rays, and preventive services—free of charge. As the program grew, we expanded it to two days. On the second day, scheduled in March, we did restorative work, such as fillings and extractions. And that kept growing until March 2020 and the pandemic… " she said. At that point, Dr. Studen- Pavlovich had to figure out how to continue serving the community without assembling large crowds. The result was to expand the event to five clinical days a year, 12 patients a day, the model that continues today. 

The program also expanded thanks to a generous donation from a 1978 graduate, Dr. Edward Korenman, and his wife, Jan. They provided funding for Pitt Dental Medicine's Summer Smiles program, which brings kids into the clinic for necessary exams before the back-to-school season. The overall result is a program that provides dental exams to uninsured children twice a year, just like insured kids. The program also gives dental students a unique hands-on learning experience. 

"One of the most rewarding accomplishments of my career has been building the Pediatric Dental Care Fund and the Smiles program," Dr. Studen- Pavlovich says. "There's an endowed arm now, and Pitt has made the fund one of the (priority) designated funds for the Pitt Day of Giving (pittdayofgiving.com). In the past five years alone, we have given away about $55,000 worth of dental care to children." 

A Career of Notable Achievements in Teaching, Research, and Service 
"If I had to look back at my career of teaching, research, and service, I think I've been an effective teacher and a good mentor. I assist predoctoral students, dental hygiene students, and residents to get to the next level," she says. Her dedication to teaching has been recognized by awards such as the University of Pittsburgh Chancellor's Distinguished Teaching Award and the Lewis A. Kay Excellence in Education Award from the American Academy of Pediatric Dentistry. 

As an administrator, she's tried to lead the department by example, focusing on collaboration and team-building, rather than an autocratic style. "You are only as good as the team that's backing you, and you're only as successful as the weakest link in your group." 
Also benefiting from her leadership were many local, state, and national professional organizations, including the American Dental Education Association (ADEA), the American Academy of Pediatric Dentistry (AAPD), and the American Dental Association (ADA). Dr. Studen-Pavlovich also has served as referee and editor for peer-reviewed journals, including Pediatric Dentistry and the Journal of Dentistry for Children. In addition, her resume includes many publications, presentations, and research grants. 

A particularly notable accomplishment is a $2 million grant, on which she and Robert Weyant, MS, DMD, DrPH, served as co-investigators, from the Health Resources and Services Administration (HRSA) to expand the dental public health program. The funding allowed more residents to graduate with a multidisciplinary dual degree in public health and a certificate in pediatric dentistry. 
Evolution of Pediatric Dentistry 
Over the course of her career, Dr. Studen-Pavlovich has witnessed many advancements in the field of pediatric dentistry—but she also can identify areas that remain challenging. 
"The materials we use have gotten much better, especially the switch from amalgam fillings to composite fillings. And there is a much better focus on preventive dentistry," she said. "In addition, dentistry for women has changed drastically since I entered the profession. Now our graduating classes are 50:50 men and women, but when I started school, there were 18 women out of 135. Although I never found my gender to be a barrier and discrimination was never voiced publicly, I did have people say to me, 'I hope you're not wasting this space in dental school,' because some people thought women were there to look for a husband." 
Unfortunately, she said, some things have not improved and remain as challenges for the next generation of pediatric dentists. 

"The one area that has not changed is the amount of early childhood caries in children under 6 years of age," she said. "Being a parent of a very young child is a challenge, and life is more hectic now than when I was growing up—both parents are working, families are eating on demand, a lot of kids aren't getting three square meals. It's a different lifestyle, a lot more processed food, sticky food, juice in a cardboard box that's pretty much pure sugar. The bottom line is that children are dependent on their parents to clean their teeth, take them to the dentist, and provide them with good food. And that's something that I really don't feel has improved as much as it should have in the 43 years since I graduated." 

To help educate children and families on the importance of dental health, Dr. Studen-Pavlovich appeared as a featured pediatric dentist in an episode of the famous children's show "Mister Rogers' Neighborhood." 

Children in the United States also suffer from a lack of insurance and access to care, she added, especially those with limited socioeconomic circumstances and those who live in rural areas. 

Dr. Studen-Pavlovich would like to see the field work toward increasing the number of active pediatric dentists. "There are 73 million children in the United States, and general dentists still treat a majority of them. Some of them need a higher level of care, such as moderate or deep sedation. But the country's dental schools and hospitals only graduate about 470 pediatric dentists per year." 
Plans for a Fulfilling Retirement 
In retirement, Dr. Studen-Pavlovich might be almost as busy as she was on faculty. She is planning a trip to Italy, time riding her bicycle, classes at the Osher Lifelong Learning Institute, and volunteerism. 

"I'm not making any decisions on volunteer work or other commitments until January. I just want to kind of chill. I've always been busy, and I'm sure it's going to be a transition," she said. "And there are so many books on my Goodreads list that have not been conquered!" 
Choosing Pediatric Dentistry 

To those considering pediatric dentistry as a career path, Dr. Studen-Pavlovich suggests they possess the qualities of adaptability and kindness, and that they be passionate about the work they will do every day. 

"One day, I didn't want to go to work. It was cold outside, and I wished I could just stay in bed. And my husband, George, said, 'Deb, you're pretty lucky. You have a job where every day you have an opportunity to help someone directly, whether it's a patient, a parent, a student, a resident. That is really powerful.' That was very profound for me. Sometimes you don't sit back and reflect on what really makes you want to come to work in the morning," she said. Despite the challenges, she added, "This is a privileged career. You have a chance to help people, and they look up to you. I was given an opportunity for a life of good, and a lot of people can't say that. So you can't take it for granted."