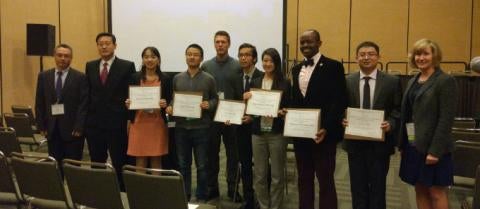 Center for Craniofacial Regeneration (CCR) faculty member Dobrawa Napierala, PhD, recently became president of the Mineralized Tissue Group (MTG) of the International Association for Dental Research (IADR). Dr. Napierala was named to the position March 23, 2017, at the annual IADR meeting in San Francisco, Ca. She had served as president-elect in 2016 and vice president in 2015.
As president, Dr. Napierala is responsible for representing the MTG at the International Association for Dental Research. In her previous positions, she was in charge of organizing the group's scientific programs for the American and International annual meetings, MTG symposium and abstract review. She has been involved with the MTG since 2010.
"This is a really large professional society," Dr. Napierala said of the IADR. "They are very diverse in interests so each group, like the MTG, has their own group of officers."
The MTG has between 700 and 800 members, according to Dr. Napierala.
"It's a growing group within the IADR," she said. "I like that it is very active, supports development of young investigators and the members are engaged in the group. It is a great place to develop collaborative projects."
According to the IADR, the Mineralized Tissue Group includes researchers interested in mineralized tissues of the craniofacial region, including enamel, dentin, cementum and bone from fields ranging from molecular biology to materials science. Praising the group for its interdisciplinary nature, Dr. Napierala said the MTG includes a range of researchers, from chemists and biologists to dentists.
"I'm a molecular biologist, and I'm interested in learning how mineralized tissues are formed," she said. "I think we engage more in the conversation with other groups that have research interests overlapping with MTG. We are organizing some of the sessions together with other groups. I'd like to have more conversation and engagement with other groups."
Dr. Napierala added that the University of Pittsburgh School of Dental Medicine has a longstanding history of faculty serving as MTG group officers.
"One of the very important things in research is interdisciplinary approach and collaboration," Dr. Napierala said. "Our school has a longstanding history of officers on the MTG groups."
CCR Director and University of Pittsburgh School of Dental Medicine Associate Dean for Research, Associate Professor Charles Sfeir, DDS, PhD, has served on the IADR MTG in the past, as has Associate Professor of Oral Biology Elia Beniash, PhD.
Dr. Napierala, who is very interested in human genetic diseases and the dysfunction of bone and dental tissues, currently is in year three of a five-year R01 from the National Institutes (NIH) of Health National Institute of Dental and Craniofacial Research (NIDCR). That project, "Transcriptional Regulation of Dentin Mineralization," focuses on understanding molecular interactions on the gene regulation level that lead to formation of dentin, the tissue the forms the majority of the tooth.