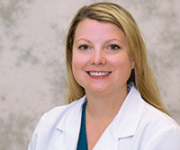 Congratulations Dr. Sarah Grafton
Pitt Dental Medicine is very pleased to announce the appointment of Sarah E. Grafton, DMD to one of the most important leadership positions as our new Chair of Restorative Dentistry and Comprehensive Care at the University of Pittsburgh School of Dental Medicine. Dr. Grafton is widely regarded for her superior organizational skills and as a person who operationalizes excellence.  We are excited to have her take this leadership position to help take our fine program in to the next level of distinction.
Dr. Grafton completed her doctoral degree in Dental Medicine at the University of Pittsburgh in 2000 and a post-graduate general practice residency at the Veterans Administration Medical Center in Pittsburgh, Pennsylvania. Since 2014, she has been appointed at the University of Pittsburgh as an Assistant Professor and has most recently served as Vice Chair for Clinical Efficiency within the Department of Restorative Dentistry and Comprehensive Care. She is highly committed to education and clinical excellence and has a passion for patient experience and quality assurance.  Dr. Grafton has experience in both the private sector as well as in education in a variety of roles, giving her a unique perspective on care delivery and the educational environment.  She is credited with streamlining, refining, and energizing our clinical workflow process to help students and residents gain the optimal experience in a high quality and efficient environment for our patients.   
Dr. Grafton's scholarly interests include behavioral health and community-based dentistry, dental treatment for those with substance abuse disorders, and clinical efficiency with quality assurance in dental education.  She has served on countless committees as a key contributor to our recent success within our clinics and is also regarded as an educator that is highly committed to student experience. 
Dr. Grafton's vision for the Department of Restorative Dentistry and Comprehensive Care is to integrate the program more completely into our other service lines and have the patient experience be central to delivering the best educational opportunities possible for all of our trainees.  We look forward to seeing her connect with the other members of our leadership team here at Pitt Dental Medicine as we continue to improve the patient care experience as well as the quality of our programs.  Please welcome her to this very important leadership role that ushers in a new era for dentistry at our institution.