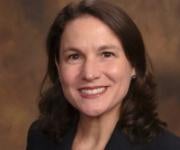 Dr. Joanne Prasad, assistant professor in the Department of Oral and Craniofacial Sciences, has been accepted into the 2016-17 American Dental Education Association (ADEA) Leadership Institute. Dr. Prasad also was selected as the recipient of the $10,000 ADEA/ADEAGies Foundation Drs. Connie L. and Richard R. Drisko Scholarship to be used for tuition and fees for the Leadership Institute.
Dr. Prasad, a board-certified oral and maxillofacial pathologist, was supported in her application by the the dean and associate deans of the School of Dental Medicine. She is looking forward to her participation in the Leadership Institute  and  welcomes the opportunity to develop team-building and leadership skills, so that she may continue to act as a productive and valuable member of the School of Dental Medicine.
"We should not be afraid of
changes in healthcare—instead we should look
at change as an opportunity to improve."
Dr. Prasad participated in the ADEA Emerging Leaders Program, held in the summer of 2015. She and her team will present the results of their group project entitled "Assessing Faculty Preparedness to Teach and Reinforce Culturally Competent Care in North American Dental Schools" at the ADEA Annual Session in Denver this spring. Her research interests outside of oral and maxillofacial pathology include developing cultural competence in dentistry and improving the disparity found in oral health among diverse groups.  
She is nearing completion of her Master of Public Health (MPH) at the Pitt Graduate School of Public Health (GSPH). This educational experience has enabled her to see oral health within the broader context of public health. She is particularly interested in health policy as it relates to all healthcare fields. Continually seeking to improve and expand her educational opportunities, Dr. Prasad also is completing a certificate program in Health Systems Leadership and Management, offered through the Department of Health Policy and Management of the GSPH.
As Director of Quality Management and Improvement at the School of Dental Medicine, she has been working closely with others to improve the quality of the care delivered to patients at the school.  She also recognizes that cultural competence plays an important role in improving the patient-provider relationship and is one way to improve quality and positively impact oral health outcomes. She recently submitted a grant proposal to develop instructional materials presenting theatre-based techniques to enhance communication skills and cultural competence in dentistry. This initiative ties in well with her role as a School of Dental Medicine liaison for the Year of the Humanities in the University and the related project "Celebrating the Humanities in Salk Hall", which she developed with others. The project is being funded by the dean and the Office of the Provost.