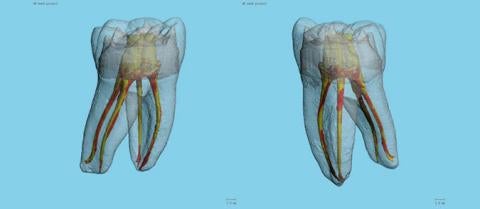 Center for Craniofacial Regeneration microCT Core Director Dr. Konstantinos Verdelis has received a grant from the National Institutes of Health totaling $323,000 for an ex vivo high resolution micro-computed tomography system for the School of Dental Medicine. The system will be housed at the School of Dental Medicine's microCT Core at the Center for Craniofacial Regeneration (CCR) in Salk Pavilion.
"Acquisition of this advanced technology is an important addition to the resources of the CCR," said Verdelis. "It will increase the analytical capabilities for all the Pitt researchers, as until now this technology was not accessible to them."
The microCT-Bruker 1172 system will provide scanning capabilities and technology at a level previously unavailable to those at both the University of Pittsburgh and neighboring institutions, Verdelis said. The system is capable of submicron resolution acquisition of images in 3-D from a wide range of materials, both hard and soft tissues. That higher resolution means researchers can examine samples from a closer and more detailed perspective than other equipment offers.
The grant is awarded through the NIH's Shared Instrumentation Grant (SIG) program. The collaborative effort to attain the grant for purchase of the equipment included federally funded-researchers from the School of Dental Medicine as well as other federally-funded University of Pittsburgh faculty, notably those at the Medical School, the Swanson School of Engineering and the McGowan Institute for Regenerative Medicine.
"In the last few years, CCR's microCT Core has established a close collaboration with many investigators within the Pitt community," Verdelis said.
Researchers from departments of neighboring Carnegie Mellon University were also included in the proposal and will utilize the equipment. The Core also shares an in vivo intermediate resolution system (Scanco Medical, VivaCT 40) with the McGowan Institute for Regenerative Medicine at a Bridgeside Point2 facility.
In a letter of support to the NIH's SIG program, School of Dental Medicine Dean Thomas Braun described Verdelis' effort as "critical to the mineralized tissue characterization facility at the University of Pittsburgh." 
"In my discussions [with Verdelis] it was clear that the strength of the application is that the fact that it is truly in response of the demand of the local research community at the University of Pittsburgh and of other research organizations in the greater Pittsburgh area," Dr. Braun wrote.