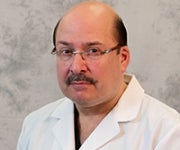 Announcement from the Dean
I am pleased to announce that Dr. Steven J. Kukunas will serve as the Director of Patient Experience and Quality for the Interdisciplinary Implant Center here at Pitt Dental Medicine. Dr. Kukunas has worked tirelessly to retool the educational experience for our students and residents, and also helped reimagine the shared governance structure of the Implant Center with a number of our leaders in this area. This new structure has helped improve the patient experience at the Center and enhanced the quality of care for our patients with the engagement of our specialty areas. Dr. Kukunas supervises the surgical and prosthodontic training of residents and dental students in the Dental Implant Center. I want to personally thank Dr. Kukunas for helping lead the recent changes at the Center and taking on these responsibilities. 
Dr. Kukunas received both his Doctor of Dental Medicine degree from the and his Prosthodontic Specialty Certificate at the University of Pittsburgh. He also received a University of Pittsburgh Certificate in Oral Implantology in 1989 in the surgical and prosthetic aspects of Dental Implants.
Dr. Kukunas began his academic career in 1991 when he was charged with the responsibility of developing the dental implant curriculum for the University of Pittsburgh School of Dental Medicine. At that time, the University of Pittsburgh was one of the first schools to develop a curriculum in Implant Dentistry. 
Since 2005 he has served as Director of Clinical Operations of the Multidisciplinary Dental Implant Center and Director of Implant Prosthodontics (since 1996) at the University of Pittsburgh. Dr. Kukunas is active in research and publications relating to Implant Dentistry and Prosthodontics. He has lectured nationally and internationally on the topic of Dental Implants. He holds fellowship membership and is an active member in many dental organizations including being a Fellow of both the American College of Dentists and the International College of Dentists (2001). Dr. Kukunas has served as Team Dentist for the Pittsburgh Penguins since 2011.
Sincerely,
Bernard J. Costello DMD MD
Dean and Professor
University of Pittsburgh School of Dental Medicine