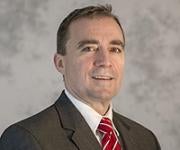 Dr. Mark Ochs, professor of Oral and Maxillofacial Surgery at Pitt Dental Medicine, will be taking on new responsibilities as the Special Assistant to the Dean for Community Engagement and Global Affairs. He will be stepping aside from his duties as Chair of the Department of Oral and Maxillofacial Surgery, however, will continue to serve as a surgeon and professor of Oral and Maxillofacial Surgery. In his new position, he will play a key role in improving outreach to a variety of stakeholders in our community and will help craft a vision for increasing our global impact.
Among his peers, Dr. Ochs is widely known as one of the best surgeons in the areas of orthognathic surgery, trauma, and implants. Dr. Ochs will continue to be an active participant in Pitt Dental Medicine's education and clinical program in oral and maxillofacial surgery, as his skills in this area are highly valuable to students, residents and patients, and he will continue to contribute in important ways for our future.
An extensive search for a new Chair in Oral and Maxillofacial Surgery is underway.