A message from the Senior Vice Chancellor for the Health Sciences
Anantha Shekhar, MD, PhD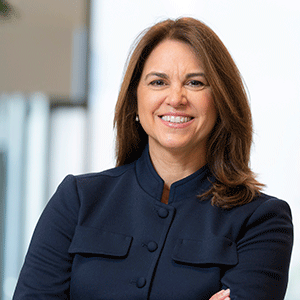 I am pleased to announce the appointment of Marnie L. Oakley, DMD, associate professor of restorative dentistry and comprehensive care, as dean of the School of Dental Medicine and president of University Dental Health Services (UDHS), effective October 1, 2023. Throughout a distinguished career spanning nearly three decades with the school, Marnie has consistently excelled in positions of increasing leadership responsibility and has helped to position Pitt Dental Medicine as one of the nation's premier dental schools while also improving the school's capacity, efficiencies, and excellence in the critical mission areas of education, research, clinical care, equity, community service and entrepreneurship.
Marnie has served as interim dean since September 2022, a role she also held for several months in 2021. During her combined 15 months leading the school, she has significantly increased research, educational, and revenue-generating opportunities across the organization, leveraging internal, governmental and industry collaborations. She has recruited seven new high-caliber faculty via Pitt Health Sciences' Race and Social Determinants of Equity, Health, and Well-Being Cluster Hire Initiative, including three appointed to chair clinical departments. Marnie also oversaw nearly $9 million in clinical production in Pitt fiscal year 2023, the highest historically for the school, and implemented a paid dental assistant apprenticeship program to address the shortage of dental care professionals and the lack of diversity in its workforce. Conducted in partnership with Pittsburgh Public Schools, the program is funded through a PAsmart grant from the Pennsylvania Department of Labor & Industry.
An enthusiastic "Pitt person," Dr. Oakley earned her BS in Biology and her DMD from the University of Pittsburgh and began her professional career serving an active duty, four-year tour as a dental officer in the United States Navy. She joined Pitt Dental Medicine as a clinical instructor in the Department of Oral Medicine and Pathology in 1996, while concurrently working as a private practice dentist, and was appointed assistant professor in the Division of Restorative Dental Sciences in 1999. In 2005, she was appointed chair of the Department of Restorative Dentistry and Comprehensive Care. Subsequent promotions include associate professor (2012), associate dean for clinical affairs (2011-2018), senior associate dean for clinical and faculty affairs (2018-2021) and vice dean and associate dean for clinical affairs (2021-22). Marnie also holds an Executive Coaching Certificate from BerkeleyExecEd and has lectured extensively on leadership topics.
I'd like to extend my special thanks to Tony Delitto, PhD, PT, dean of the School of Health and Rehabilitation Sciences, for leading the search committee as well as all of its members for their service. Please join me in wishing Dr. Oakley continued success at the School of Dental Medicine.