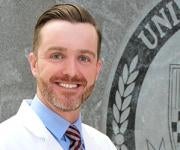 Pitt Dental alumnus and resident Dr. Michael Chambers (DMD '12) has been honored as a 2016 inductee into the Charles G. Watson Chapter of the Arnold P. Gold Humanism Honor Society. Dr. Chambers was selected by his peers of the University of Pittsburgh School of Medicine Class of 2016 in recognition of his outstanding clinical and interpersonal skills. Before he attended dental school, Dr. Chambers served as a school band instructor. He credits to his artistic background in aiding in his success for "in addition to being a musician, I am also an artist and enjoy drawing, painting, and sculpting.  These fine motor skills have proven quite helpful as a dentist and surgeon".
The society honors medical students, residents, fellows, and others who demonstrate high standards of humanistic clinical care, leadership, compassion and dedication to service. Founded in the late 1990s through grants from the Robert Wood Johnson Foundation, the Gold Humanism Honor Society currently has over 22,000 members who have attended medical schools in the United States. Members are internationally recognized for their humanistic achievement and have access to leadership development opportunities, awards and grants, and conferences and lectures.
After his medical school graduation, Dr. Chambers will attend the School of Dental Medicine where he will continue using his humanistic approach to treat patients while completing his residency in Oral and Maxillofacial Surgery and will graduate in 2018. Dr. Chamber adds "I am surrounded by some of the best people in the business and consider it an honor to train at Pitt under the tutelage of my attendings and beside my fellow residents".