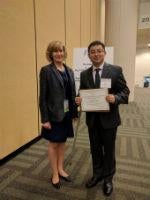 Center for Craniofacial Regeneration visiting scholar Qi Han, DDS, a PhD candidate, was recognized in March with the IADR MTG Young Investigator Award from the International Association for Dental Research (IADR) Mineralized Tissue Biology Committee. Dr. Han received the honor at the annual IADR conference March 23, in San Francisco, Ca.
Dr. Han was recognized for his work on the abstract "Osteoblastic lineage-intrinsic Tsc1 regulates osteogenesis and bone marrow adipogenesis." The award brings with it the title of Mineralized Tissue Group (MTG) Young Investigator.
"I really appreciate this award," he said. "This great honor definitely encourages me to continue my current work. I feel that all my hard work is worthwhile."
Dr. Han is a visiting scholar from the West China School of Stomatology, Sichuan University in China. Since 2015 he has been working with the University of Pittsburgh School of Dental Medicine's Dr. Hongjiao Ouyang in the Ouyang Laboratory of Signal Transduction in Mineralized Tissue Development and Diseases.
According to Dr. Han, the University of Pittsburgh School of Dental Medicine appealed to him for both its advanced standing in education and research.
"It offers a variety of educational programs that cover the wide aspects in dental medicine, and its national ranking has always been on the top," he said. "On the other hand, its research program provides opportunities for dentists like me to work on innovative studies and produce meaningful outcomes."
The research of the CCR aligns with Dr. Han's own pursuits.
"I am very interested in the research about mineralized tissue," he said. "It is very close to what I have been studying in China."
The Mineralized Tissue Group includes researchers interested in mineralized tissues of the craniofacial region, including enamel, dentin, cementum and bone, according to the IADR MTG. The interdisciplinary group, according to IADR materials, includes researchers in fields such as molecular and cell biology, mineralogy, chemistry and materials science.
CCR research faculty member Dobrawa Napierala, PhD, was also named president of the IADR MTG at the annual meeting.
Details about Dr. Han's presentation are available courtesy of the 2017 IADR/AADR/CADR.
For further information on Dr. Han's research, please visit his ResearchGate page.