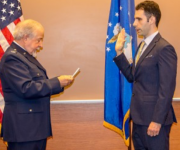 First-year periodontics resident, Dr. Curtis G. Dugas, was commissioned into the United States Air Force as a captain during a ceremony at Pitt Dental Medicine in September. Pitt Dental Medicine faculty member Dr. Robert Engelmeier, a retired Air Force colonel, performed the commissioning ceremony. His enlistment is a move that has been a long time in the making.
"My mother worked for the Marine Corps her whole life," said Dr. Dugas, a New Orleans, Louisiana native. "When I was growing up, every day after school I would go to a naval base. I was around the military my whole life."
"The support I have received from the faculty and co-residents in Perio has been great," Dr. Dugas said. "I realize that I'm standing on the shoulders of the many others who believe in me— the ceremony was all about the people I will serve."
Dr. Dugas was one of only two selected nationally for the Air Force program this year from among both periodontics residents and practicing periodontists. The highly competitive process includes applicant reviews by the head of periodontics and the Surgeon General for the Air Force, and must be signed by the President of the United States.
"I guess you could say we are pretty well-vetted," he said.
To Dr. Dugas, all the effort is worth it. "I'm here to train to be the best periodontist I can be, and even though I already am commissioned, I am a captain. By the time I've completed my residency, I will have been a captain for three years. "
After studying music as an undergraduate at the University of New Orleans, he earned a master's degree from the same university. He worked for the Louisiana Philharmonic Orchestra as an administrative executive where two of the board members were dentists. "I would talk to them about being a dentist, so there was path there. The career change wasn't just a sudden left turn," he said.
Both Dr. Dugas and his wife attended the Lake Erie College of Medicine (LECOM) where they completed three years at LECOM's Florida campus, with their final year in Erie, Pa. At LECOM, two of his mentors had been in the Air Force Dental Corps. LECOM faculty members–many of whom were graduates of Pitt Dental Medicine–left him with a great impression about the program. His wife, too, is a resident at Pitt Dental Medicine's prosthodontics department.
"I really enjoyed seeing all the research opportunities available to residents at Pitt," Dr. Dugas said. "I really like the culture of the periodontics department and being a member of the Pitt Dental family"