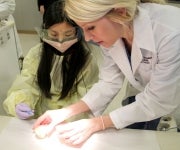 Highlighting dental careers for tween and teen girls.
The School of Dental Medicine, in cooperation with the Carnegie Science Center, highlighted dentistry and dental careers during a recent event for tween and teen girls held in the Simulation clinic at the school.
CanTEEN is an innovative program coordinated by Pittsburgh's Carnegie Science Center, in cooperation with regional institutions, to highlight STEM (science, technology, engineering and mathematics) careers for girls through gaming and other activities. Monday, March 30, 2015, a group of girls joined Dr. Elizabeth Bilodeau and volunteers to experience being a dentist for a few hours. The girls spent the morning in hands-on activities pouring stone models, performing sealants on model teeth and listening to a short presentation about the advantages of a dental career. 
"The Carnegie Science Center program is a wonderful way for girls to explore STEM  careers. Current Pitt Dental Medicine students served as mentors and teachers to the girls. It was an incredibly successful event and we were thrilled to be a part of it!"  —Elizabeth Bilodeau, DMD, MD, MSEd