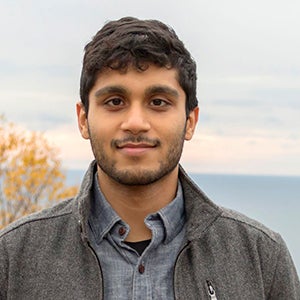 Dr. Sohail Rana earned his DMD at Pitt Dental Medicine in 2021. He is cofounder of ZeroDK, Inc., a company that developed an integrated hardware/software system to track oral hygiene. Dr. Rana is passionate about making dental care more inclusive and targeted. 
As CEO of ZeroDK, he has led his team to build an iPhone app to track brushing and flossing habits and ultimately decrease the cost of dental care. The goal of ZeroDK is to intervene in a patient's dental care early enough to prevent illness, create good oral hygiene habits and positively impact patients' health beyond the dental chair. Rana believes that the ability to prevent illness is empowering and that prevention, rather than treatment, is the key to healthy dentistry.
"My mission through ZeroDK is to create a world with zero tooth decay," Dr. Rana says. "That's a really big goal, but the good news is [that] we know how this can be accomplished: by providing patients with excellent oral hygiene and regular, affordable dental care."
ZeroDK began as a business project that gained momentum as the team and interest grew. Dr. Rana does not have a technical background, so he chose to work with individuals with technical and entrepreneurial expertise. Pitt Dental Medicine allowed him to explore these facets during his education, he says. "While in school, we were told that if we want to be exceptional doctors, we need to diversify our field of knowledge beyond the dental school. That push gave me the wherewithal to take a look at different areas like business and tech." He acknowledges the challenges of managing and motivating a team when the initial excitement diminishes and the prospect of building something of value seems impossible. Even as ZeroDK grows, it is important to him that he continues to practice dentistry to further hone his skills and gain credibility.
To learn more about ZeroDK, visit zerodk.com