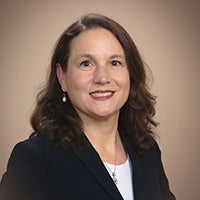 Joanne Prasad, DDS, MPH, Pitt Dental Medicine Associate Professor in the Department of Diagnostic Sciences, and Assistant Dean for Academic Affairs, has been selected by the University to receive a 2023 Chancellor's Distinguished Teaching Award.  
This University-wide teaching award is the highest honor given for teaching at the University of Pittsburgh and publicly recognizes distinguished teaching. Dr. Prasad's efforts stand as an inspiring example of excellence in teaching. Noteworthy are her passion and commitment to teaching, her efforts to create an engaging learning environment, her engagement in promoting sex and gender health in dental education, and excellent student performance on the oral pathology and radiology section of national board exams. She participates in many aspects of teaching here at the school. 
"I am deeply honored and grateful to have been selected to receive a Chancellor's Distinguished Teaching Award, fully cognizant that there are so many wonderful educators here at Pitt Dental and throughout the University. Over the past 17 years, I have had the great privilege of teaching and interacting with a diverse group of learners at the undergraduate, predoctoral, residency, and continuing education levels. I have learned a lot about the principles and scholarship of teaching and learning from them, but also from numerous faculty development and enrichment opportunities and from many of my amazing colleagues. I also am grateful for the support of my chairs and administrators who have enabled me to grow. Being a teacher has been both incredibly humbling and richly rewarding. It certainly has been a very satisfying aspect of my career at Pitt. Receiving this teaching award truly is a great honor." 
—Joanne Prasad, DDS, MPH 
The Chancellor's Distinguished Teaching Award consists of a $2,000 cash prize and a grant of $3,000 to support teaching activities. Each year, up to five faculty members are selected from across the University to receive this award. The selection process is conducted by a committee that includes faculty and students appointed by the University Provost.