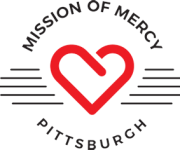 Volunteers and Patients come together at this year's MOM: July 24 & 25, 2019 at PPG Paints Arena. Doors open at 6am.
Mission of Mercy Pittsburgh is a free, two-day dental clinic for under-served people living in Pittsburgh and the surrounding area. Many of the patients seen are from working families who do not have access to dental care or cannot afford dental insurance. All services are provided free of charge by local dental professionals, assisted by a host of volunteers.
"As both an oral & maxillofacial surgeon and a dentist, I see the physical, mental and emotional impact that significant dental problems have on patients' lives.  These people are in dire need of the services that many of us take for granted.  As volunteers, together we provide them with a safety net, in addition to giving them hope and restoring their faith in their community."
— Dr. Daniel Pituch
This is a first come, first served clinic and patients started lining up the evening before to receive treatment.
Treatments offered will include: diagnosis by a dentist, minor restorative fillings, extractions and cleanings. Additionally, patients will be connected to those agencies that are best able to offer them continuing treatment in our community and educate them on the importance of good oral health. 
Volunteer dentists are needed!
Please consider giving your time and talents to this wonderful, life-changing cause. Volunteers also are needed for the set up on Thursday, July 13, 2020.
Please visit the website at www.MOMPGH.org for more information and to register as a volunteer.  Questions? Please email: info@MOMPGH.org
And don't forget to follow MOM on Facebook and Twitter for real-time updates about the event.