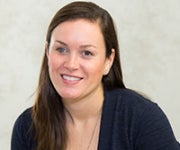 I am very pleased to announce the appointment of Kelly R. Wagner, RDH, MS, as our new Director of the Dental Hygiene program here at the University of Pittsburgh School of Dental Medicine. We are excited to have her in this leadership position to help take our fine program in Dental Hygiene to the next level of excellence.
Ms. Wagner completed her bachelor of science degree in dental hygiene at the University of Michigan in 2007 and her master of science degree in dental hygiene at the University of Maryland. Her research concentration was the role of the caregiver and oral health knowledge, socioeconomic status and health literacy of Hispanic children's oral health. She is highly committed to research and has a passion for education in dental hygiene. Ms. Wagner has experience in both the private sector and education in a variety of roles—giving her a unique perspective on care delivery and the educational environment.  
While originally from Michigan, Ms. Wagner came to the University of Pittsburgh from Washington, DC, where she lived for more than ten years and began her career in clinical dental hygiene. During her time in DC, Ms. Wagner had experience working in pediatric dentistry, prosthodontics, and general dentistry.  She also was a part-time faculty member in the dental hygiene department at Northern Virginia Community College from 2014-2018, where she taught local anesthesia, radiology, and clinical dental hygiene courses. Just over a year ago, she accepted a full-time position at Pitt Dental Medicine and has fulfilled the role of senior clinical supervisor as well as course director for Public Health Dentistry, Local Anesthesia, and Dental Hygiene Seminar courses. Ms. Wagner has served as interim director of the Dental Hygiene program since July, 2019. 
Ms. Wagner has won a variety of awards, including the Teacher Development Award from University of Maryland for the dental hygiene program lesson plans and programming she crafted. She also has served on a variety of committees and as interim director.  Her research interests include oral health literacy, patient outcomes in various delivery systems, and oral inflammatory markers. She is a member of Sigma Phi Alpha and the American Dental Education Association (ADEA).
Part of Ms. Wagner's vision for Dental Hygiene is to integrate the program more completely into our other service lines and have dental hygienists be an even more important part of our care delivery team. I look forward to seeing her vision and plans with the faculty and the other members of our leadership team here at Pitt Dental Medicine, as we continue to improve the patient care experience as well as the quality of our programs.
Please join me in welcoming her to this very important leadership role.
Bernard J. Costello, DMD, MD
Professor and Dean