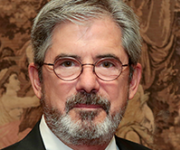 Paul A. Moore DMD, PhD, MPH
Professor; Pharmacology, Dental Anesthesiology, and Dental Public Health, University of Pittsburgh School of Dental Medicine
"I am extremely pleased to have been nominated by Dean Thomas Braun and to be recognized by the officers and the members of the Pennsylvania Dental Association for this year's Recognition Award.  I have been a member of the ADA long enough to qualify for the senior dues rate, proving that good things like this honor may come your way if you live long enough.
My dental career began with a great education at Penn State University and the University of Pittsburgh. I was provided with an opportunity to earn a master's degree in pharmacology during my clinical years.  I will always be grateful to Dr. James Smudski who developed the program and created a vision for me to consider a career in academic dentistry.
I practiced general dentistry for several years in Oakmont, Pa., and much to my wife's dismay, decided to pursue a full-time career in academic dentistry.  Most of my career has focused on teaching pharmacology and dental therapeutics, providing anesthesia services, preparing grant applications, organizing clinical research projects, and publishing the findings primarily to dental practitioners.  
Being recognized by one's colleagues with this special recognition award is quite gratifying. Thank you all: my wife of almost 48 years, the members of the PDA, and the life-long learners of our profession."
Dr. Moore is shown receiving his award form Dr. Herb Ray, Chair, Department of Endodontics, and Program Director, Endodontics Residency Program.
Dr. Paul A. Moore received his DMD and a PhD in pharmacology from the University of Pittsburgh School of Dental Medicine. His professional career has included private practice in Oakmont PA, a hospital residency in dental anesthesiology at the Presbyterian Hospital Medical Center in Pittsburgh, a postdoctoral fellowship in chronic pain management at the University of North Carolina, and faculty appointments at Harvard School of Dental Medicine, University of Massachusetts Medical Center, and Forsyth Dental Center.  Dr. Moore has served as Director of the Oral Health Science Institute, Director of Research, Director of Graduate Education, and Chair of the Department of Dental Anesthesiology for the University of Pittsburgh School of Dental Medicine. He has published 300 articles on dental therapeutics including analgesics, local anesthetics and sedation.  He is a member of the editorial boards of several journals including the Journal of American Dental Association, Journal of Dental Research and Anesthesia Progress. He has recently been appointed to the Council for Scientific Affairs for the ADA, the AMA Task Force for Preventing Opioid Abuse, the Joint Council Review Panel of Pain Management, and the U.S. Surgeon General's Expert Panel of Prescription Drug Abuse.